Want to get mesmerized by the ethereal beauty of the classic city, Jaipur, especially in winter? Prepare yourself for a mind-blowing list of the best places to visit in Jaipur in winter! The pink city of India has a lot to show, especially its winter beauty. Each monument, palace, fort, sculpture, and painting of Jaipur has a legacy and a glorious past to express. Jaipur is evidence of the grandeur of Indian royalties. Imperial India has a rich history to speak about, to the modern man. Cultural heritage was always the one thing that separates India from other lands. Jaipur is the finest example of the great grandeur of India. Its streets, alleys, foods, people, music, dance, nature… everything can amaze you and can take you on a heritage Jaipur walking tour.
Jaipur is known as the "Paris of India". Because of the unique color constitution of its buildings, it is famously called the "Pink City". It is the largest city in the state of Rajasthan. This exotic city is also famous for its jewelries and fabrics.
Want to know more about Jaipur and its wonders? Continue reading this article.
List of Best Places To Visit in Jaipur in Winter
Jaipur in winter has a lot of unique sights to show to people. The Winter season starts in the month of November and ends in the month of February. Here is the list of places to visit in Jaipur during winter.
1.Jawahar Circle Garden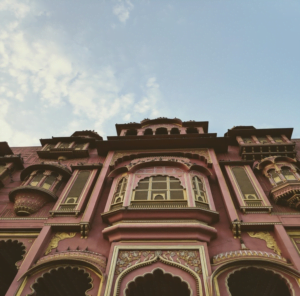 This garden is the largest circular park in Asia. The major attraction of this park is its Musical Fountain. Rose garden and the surrounding plantation the garden makes your visit more memorable and splendid. Jogging tracks, a play area for children are the other attractions of this park.
Jawahar Circle Garden is situated in Malviya Nagar.
The nearest airport is Sanganer Airport.
Park timings: 6am to 9pm
Musical Fountain show: 7pm to 7: 30 pm
Ticket charge: 10/- for Indians, 20/- for foreigners
2. Mount Abu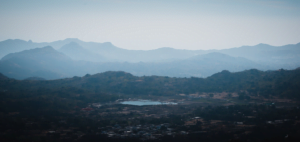 Mount Abu is the only hill station in the state of Rajasthan. You can visit Mount Abu easily from Jaipur. Because of its rich biodiversity and good climate, it is a very famous travel destination. October to March is the best time to visit Mount Abu. The highest peak of the Aravalli range, "Guru Shikhar", is on Mount Abu.
Main attractions: Bird Watching, Forest hiking
3.  Amber Fort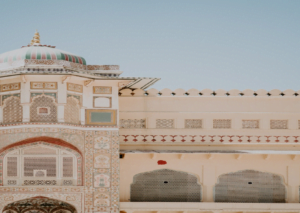 This fort is situated on the outskirts of river Maota. It is the finest example of the excellence of Rajput Architecture. It is also called Amer Fort. It is also influenced by Mughal architecture. This Fort was built by Raja Man Singh. The palace was once the home of Rajput Kings and their families. Inside the fort, there are many halls, "Hall of Public audience", "Hall of Private audience", "Mirror Palace" and "Sukh Niwas". In 2013, it was declared a UNESCO World Heritage Site.
Main attractions: Light and sound show, Elephant trip, Puppet show…
Timings: 8 am to 5:30 pm
Ticket charge:
Rs 550/- (Foreigners)
Rs 100/-(Foreign students)
Rs 50/- (Indians)
Rs 10/- (Indian students)
4. Jaipur City Palace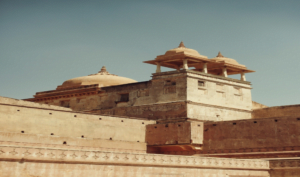 The home of the Jaipur Royal Family, the City Palace is the finest example of the excellence of Mughal architecture. It is famous for the Maharaja Sawai Man Singh II Museum.  This building is a classic combination of Mughal and European architecture. Its pillars, stairs, and carved marble interiors make it unique and marvelous. The City Palace represents the rich Indian Heritage and Culture.
Timings: 9:30 am to 5:00 pm
7:00 pm to 10:00 pm
5. Monkey temple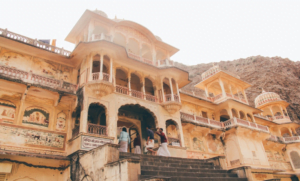 Situated 10 kilometers away from Jaipur, this temple is called Monkey Temple because of the large number of monkeys residing there. This temple is also called Galtaji Temple. This is the temple dedicated to the sun god, Balaji and Lord Hanuman. It is also famous for its holy Kunds. Natural springs are another major attraction here. It appears more like a palace than a temple. It is an 18th-century monument built by Diwan Rao Kriparam. Paintings and carvings on the walls are other splendid sights we can see here.
Timings:  5:00am to 6:30pm
6. Jal Mahal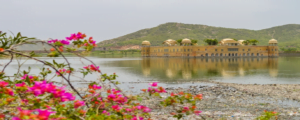 Jal Mahal literally means the "Water Palace". It is a palace cum hotel. It is situated in the "Man Sagar Lake" in the middle of the lake. It is a typical combination of Mughal and Rajput architecture built in1799 by Sawai Pratap Singh. It contains towers in every corner, which is another important feature of this palatial hotel. It is located in Amber Fort road.
Timings: 9:00am to 5:00pm.
Ticket charge- Rs 50/-
7. Sisodiya Rani Bagh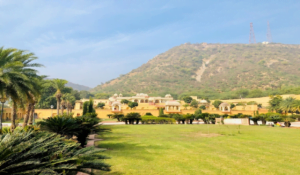 This garden in Jaipur was built by Maharaja Sawai Jai Singh in 1728. It was built for the then queen who hailed from the Sisodia line of sun dynasty Rajputs of the period.  Tiered multi-level gardens, fountains, galleries, pavilions, and Lord Krishna's Murals are the major attractions of this garden. There is a double-storied palace at the top terrace of the garden. It is situated on Jaipur- Agra Highway. It is one of the major tourist destinations in Jaipur. It is a  place where we can find peace and calmness, away from the pollution and noise of the busy city. Also explore the jaipur artwork.
Timings: 8:00am to 5:00pm
8. Hawa Mahal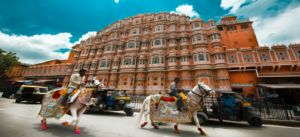 Hawa Mahal literally means the "Palace of the Wind". Hawa Mahal was built by Maharaja Sawai Pratap Singh in 1799. Arched roofs, stone-carved screens, small casements, and hanging cornices are some of the major attractions of this delicate palace. It is a five-storied pyramidal palace. It is a fusion of Rajput and Mughal architecture. It was built using pink sandstones. Its windows are called "Jharokha". It is a world heritage site.
9. Nahargarh fort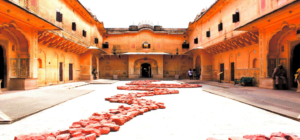 Nahargarh Fort is located on the outskirts of the Aravalli ranges. It was built in 1734 by Maharaja Sawai Jai Singh as a strong defense for the city along with Amer fort and Jaigarh fort. The literal meaning of this name is "abode of tigers". It is also a popular filming site.
Timings: 10:00am to 5:30pm.
Ticket charge: Rs50/- for foreign students
Rs25/- for Indian students
Rs50/- for Indians
Rs200/- for foreigners.
10. Jantar Mantar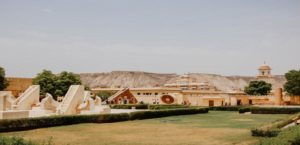 It is a collection of 19 different astronomical instruments built by king Maharaja Sawai Jai Singh II in 1734. It is a UNESCO World Heritage site. Jantar Mantar has the world's largest stone sundial. These instruments were used for measuring time, predicting eclipses, and for observing stars and the earth's orbit.
Timings: 9:00am to 4:30pm
Entry fees- Rs15/- for Indians
Rs200/- for foreigners
11. Jaigarh Fort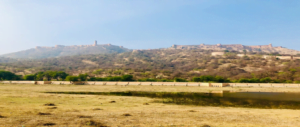 Jaigarh fort is situated on the Aravalli Ranges. It was built by Maharaja Sawai Jai Singh II in 1726 as a defense complex. It is also known as the victory fort. The fort is built with red sandstone and has a length of 3Kms. The square garden and a central watch tower inside are major attractions of this fort. This fort was used as weaponry by Rajputs.
Timings: 9:00am to 4:45pm
Ticket charge: Rs150/- for Indians
Rs200/- for Foreigners.
Discounts are available for students with ID cards.
Frequently Asked Questions:
1. How many days are needed to visit Jaipur?
Two days are enough to travel around Jaipur
2. Is Jaipur expensive?
The cost mainly depends on the accommodation you choose. Jaipur is comparatively cheaper.
3. Is it safe to spend time in Forts at night?
Spending nighttime at the forts is not so safe because around the forts are thick dense forests with wild animals.