Uttarakhand is well known for its unique flavors. You will experience the exquisite flavor of Indian food with these dishes. The cuisine of Uttarakhand is typically simple but flavorful, using ingredients that are farmed nearby. Diverse recipes are often used in Uttarakhand's Kumaon and Garhwal regions. Due to their exceptional flavor and texture, travelers like both Kumaoni and Garhwali cuisine. Here are some of the best dishes you must taste while visiting Uttarakhand:
List Of Must Try Foods in Uttarakhand
1. Gahat Soup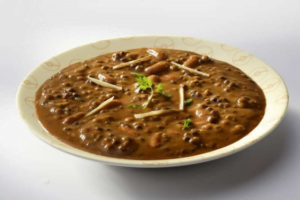 One of the must-eat delicacies in Uttarakhand is gahat soup. This dish, which is made from horsegram lentils, has therapeutic qualities. One of the old Garhwali recipes is this one. Garam Masala, Cream, Gahat Dal, Ginger, and Garlic Water make up the majority of its constituents.
2. Arsa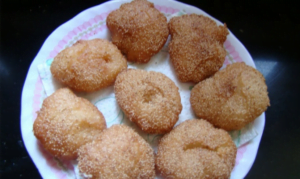 Arsa is a well-liked dish in Uttarakhand and is typically served during weddings and other customary occasions. It is a sweet Pahari specialty and one of Uttarakhand's most beloved desserts. The greatest snack to try in Uttarakhand is called Arsa, and it is made from basic components like rice, mustard oil, and cane sugar. You shouldn't skip this widely consumed Garhwali treat while visiting Uttarakhand.
Read: Religious Places in Uttarakhand
3. Chainsoo
Made from lentils, Chainsoo is a famous traditional Garhwali recipe in Uttarakhand. The main ingredients of this dish are black gram daal, Coriander, Garlic, turmeric powder, garam masala, and cumin seeds. It is a nutritious delicacy with rich protein content.
4. Kafuli
In Uttarakhand, Kafuli, a traditional Garhwali cuisine, is a must-try. It is made of spinach and fenugreek leaves. Steamed rice is offered with it. Uttarakhand is home to the health-conscious meal known as Kafuli, which is prepared in an iron Kadai. In Garhwal, it is also referred to as "Dhapdi."
5. Bhang ki Chutney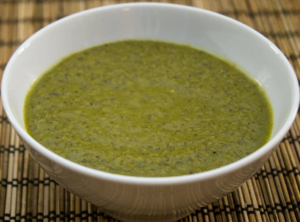 Bhang Ki Chutney, a very well-known recipe in Uttarakhand, is created from hemp seeds, which give it its distinctive aroma. The nutritive value of hemp seeds is well established. Bhang Ki Chutney is typically served with the main course, although it is also occasionally served with rolled ragi or finger millet roti. This dish greatly aids in digestion and enhances metabolic processes. Hemp seeds, coriander leaves, green chilies, ginger, garlic, and lime juice make up the majority of the ingredients.
6. Phanu
A well-known Garhwali dish in Uttarakhand is phanu. Lentils like chainsoo, gahat, arhar, or green Mung are used to make this dish. The dals are soaked in water for four to six hours prior to cooking. It is a sort of soupy dish that is typically served with rice.
Read: Best Street Food in Jaipur
7. Baadi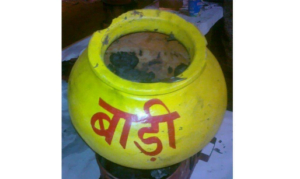 Baadi is a well-liked meal in Uttarakhand that is renowned for its distinct flavour and scent. It is a straightforward recipe packed with minerals, including vitamin B12. The perfect pairing for ragi-based baadi is gahat ki daal and phanu. Ragi flour, ghee, and water are the primary components needed to make this meal.
8. Kandalee ka saag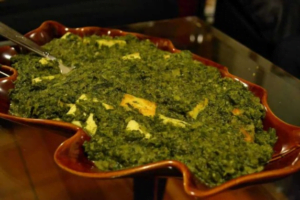 In Uttarakhand, kandalee ka saag is a delicacy that you simply must try. With paneer and a green vegetable known as "Bicchu Ghas," it is a tasty and healthy recipe that is well-known among travellers. The ideal combination is with paratha. This distinctive Uttarakhand specialty is only offered by a few few establishments.
9. Dubuk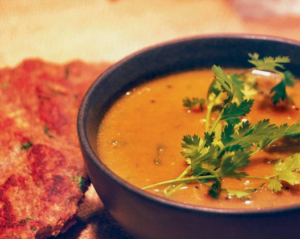 Dubuk, an incredibly popular dish from Uttarakhand, is cooked with daal and is renowned for having an unmistakable flavour. In the state's Kumaon region, dubuk is produced. Dal and pakoras, or dumplings, are the dish's key components. The ideal pairing is rice.
10. Jhangora ki kheer
It is a well-known dish in Uttarakhand and something you should taste after eating Garhwali specialties. Jhangora, a type of millet, milk, cashews, and raisins make up the majority of its ingredients. This kheer is famous for its texture and deliciousness. It is typically served as a dessert.
11. Gulgula
Gulgula is a traditional jaggery-based Garhwali sweet that is a must-have in Uttarakhand. Since it is produced from common materials, it is offered throughout the state. Wheat flour, jaggery, fennel seeds, mustard oil, and sweet spice powder are the major ingredients.
Read our latest article about: 10 Must Visit Religious Places In Uttarakhand
There are many additional foods that, aside from these recipes, will make your mouth swim. While the majority of these foods are readily accessible, others are only offered in select locations. Therefore, don't forget to test out these incredible dishes and enhance your travel experience.