Once you try them, Indian cuisine always lingers on your palate. You cannot get such delicacy from anything. Along with several palaces and monuments, Delicious street cuisine is another thing that makes Jaipur famous. Saying that street food is unhealthy is false. These delicacies are prepared with Indians' dedication, joy, and love. They are far superior to fancy dinners. Therefore, don't be so anxious to try these incredible wonders of Indian streets .This blog will introduce you to the top ten must-try street foods in Jaipur. So enjoy your time in Jaipur tasting these wonderful dishes.
Street Foods in Jaipur
1. Masala Tea
How is it possible to begin the day without a cup of tea? When it is a Jaipuri masala chai, it is impossible to refuse. The best tea to awaken your inner foodie is Jaipuri masala.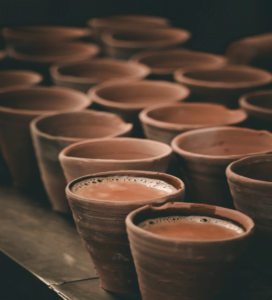 The most well-known tea shops in Jaipur are "Gulab Ji Chai" on MI Road and "Sahu Chai" in Chaura Rasta. These two businesses have been around for 80 years. So make sure to start your day with a cup of this delicious and refreshing Jaipuri Masala Tea.
2. Aloo pyaz kachori
One of Jaipur's most well-known and popular street foods is Aloo Pyaz Kachori. It is one of the most excellent snacks thanks to its crispy outside and wonderful, spicy ingredients inside. It is known as an onion potato dumpling in English.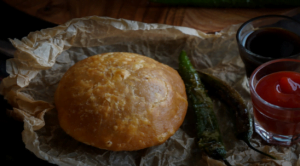 One of the well-known locations to sample this renowned kachori is the Rawat misthan bhandar in Jaipur. So be sure to sample this fantastic food that Jaipur has to offer.
3. Kulfi Falooda
Are you in need of some cooling relief for both your body and mind? Desire to avoid the sun? Kulfi Falooda is ready to soothe your irritability.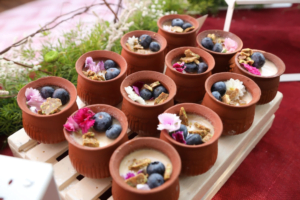 Shop number 28 at Bapu Bazaar in Jaipur is the perfect place to try this amazing taste of Kulfi Falooda. So enjoy the magic of kulfi!
4. Paav Bhaji
Another wonderful dish that we must eat in Jaipur is pav bhaji. A delicious vegetable curry is served with a fluffy bread bun.

Near Birla Mandir, the "Pandit Paav Bhaji" shop is well-known for its exquisite paav bhaji. Therefore, while visiting Jaipur, make sure to try this amazing delicacy.
Also read: 13 Adventure Sports in Rajasthan that are a Must-try
5. Panipuri
A famous Indian street dish is panipuri. There are numerous names for it, including "Golgappas," "Gupchup," "Phuchka," etc. This Indian street dish is a must-try. In reality, it is a hollow spherical puri filled with flavored water, tamarind chutney, onions, potatoes, etc. One of this dish's numerous appeals is its texture. Therefore, be sure to try this food.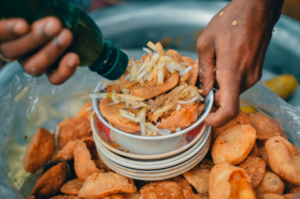 The finest spots to try this meal are on Fashion Street at Raja Park and Hotel Chawla.
6. Lassi
Lassi is a type of buttermilk. Probably one of the best Indian drinks is this. It combines yoghurt with water, spices, fruits, and other ingredients. Lassis come in various varieties, including "Namkeen Lassi," "Mango Lassi," and others. It is known as "Bhang" when cannabis is added.
Some of the well-known spots in Jaipur where we may drink this delicious beverage are "Lassiwala" on MI road and "Sardar Ji Lassi Sharbat (Jai Hind Sharbat Lassi).
7. Kathi Rolls
This particular skewer contains roasted kebab and paratha. The most popular variety of kathi rolls is chicken.
The four best known locations for Kathi Rolls are "AI Bake" on MI Road, "The Kathi Roll Express" in Malviya Nagar, "R.B. Roll Chowmein Center" in JDA Central Market, and Vaishali Nagar. So without a doubt, grab a bite!
8. Omelet
For all egg lovers out there, Jaipur has incredible types of omelets waiting for you. One of the must-try foods in Jaipur is fusion omelets. The flavor of Jaipuri Omelet is unique. This city has a wide variety of omelets to offer.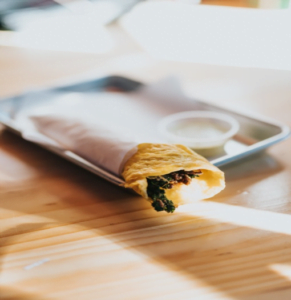 The best omelette restaurant in Jaipur is Sanjay Omelet, located in Bapu Nagar. Go, then, and eat this delicious food that is waiting for you in Jaipur.
9. Chicken Tikka
One well-known non-vegetarian Indian dish is chicken tikka. This dish is one of the most famous Indian foods. Additionally, this meal comes in a wide variety. Paneer tikka is another version of this dish for all the vegetarians out there.
The best place for chicken tikka in Jaipur is "Sethi Bar- Be- Que" in Raja Park. So be sure to enjoy this delicious, flavored, and charcoal-baked dish.
10 Sweets of Jaipur
People are usually drawn to India by its sweets. You can also explore the fascinating world of Indian sweets with the help of Jaipur Sweets. Indian sweets come in a wide range of flavours and varieties. There are many various kinds of sweets available in Jaipur as well. Phini, Ghewar, Balushahi, Mishri, Mawa, and Doda Barfi….are some of the famous Jaipuri sweets. Don't forget to get the taste of Indian Sweets.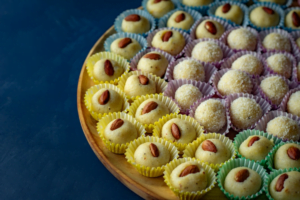 'Laxmi Mishthan Bhandar' in Jaipur is the most famous for its sweets. So don't forget to go there…..
These are just a few of the many culinary marvels of India. Many more amazing dishes are available on the streets of Jaipur. These dishes promise you that they will make your trip memorable. So go and stroll around those fascinating Indian lanes.
Read our latest article about – 11 Best Places To Visit In Jaipur In Winter
Join our Jaipur travel guide and indulge in a culinary adventure through the city's bustling streets. From savory chaats to sweet treats, our expert guides will take you to the best spots and help you discover the hidden gems of Jaipur's walking tour with gastronomic delights.
FAQ
1. Are these foods expensive?
Not at all… Indian street foods are comparatively cheaper. Many dishes cost only less than fifty rupees.