The ancient capital of India, Delhi, is a food paradise. Delhi, or "Dilli" as we refer to it, could surprise you in a number of ways, from street food to international foods. You can choose to pamper yourself  in the mouth watering flavors of Delhi's street food tour, or you can try standard wine and dining, depending on how you feel.
Delhi is like a buffet with some of the most delectable food available anyplace else. Delhi gives food tour local enthusiasts a wide variety of delicious foods to discover. From the busy lanes of ancient Delhi, where street vendors expertly combine various flavors, to the lively bazaars of central and south Delhi, where enticing fragrances call from a distance. So, you've come to the perfect place if you're seeking recommendations for restaurants, must-try foods, and the greatest places to eat in Chandni Chowk food walk.
We present to you an exclusive and comprehensive list of Delhi's most delicious and outstanding street food tours in honor of the city's street gastronomy. If you haven't had 16 of these well-known food streets in Delhi, your experience isn't particularly diverse. Have fun looking through this comprehensive guide to street food in Delhi.
Delhi's Best 16 Street Food
Discover an exclusive guide to Delhi's street food, curated just for you! To satisfy your inner foodie, try some of the popular meals on this list in Delhi. The best culinary treats from East Delhi, Old Delhi food tour, and beyond on the definitive list of Delhi's best street food. Enjoy a range of street foods that will leave you wanting more.
1. Golgappe
If you try this Delhi street food tour, you won't miss puchka or Mumbai's pani-poori. Gol gappes are the supreme street meal, whether in Delhi or anywhere else, and they must be on any list of the best street foods in Delhi.
Connect with us to experience the best Delhi Cooking Class Tour with the top chef.
2. Soya Chaap
It has grown in favor among non-vegetarians due to its fantastic flavor and is frequently used as a vegetarian alternative to mutton. Tandoori Soya Chaap and Afghani Soya Chaap are two examples of the variety. One type of soya chaap that shouldn't be overlooked is malai soya chaap. Every corner of the city would require the presence of soya chaap vendors.
3. Dahi Bhalle
You simply can't miss this delicacy of Delhi's street food tour, which we refer to as dahi bhalla. On top of the sopped dal vada, there is sweet curd and a mixture of sweet red and sour green chutney.
4.

 

Samosas
In the Delhi Food Tour, samosas are another well-liked street food essential. Usually, they come with tamarind and mint chutney. People adore eating hot samosas with chutney since they are inexpensive and taste fantastic.
5. Samosa With Chole
This fried, flavorful dish is a special street food creation from Delhi. You will choose this delight above other fried junk food after just one bite.  Delhi's vegetarian food lovers, take note! The best vegetarian street food the city has to offer is presented here, so don't miss out on this fantastic culinary experience.
6. Rabri Faluda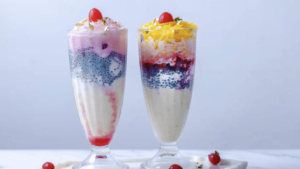 Enjoy this delicious delicacy, which combines a variety of dried fruits with lusciously caramelized milk, for a great dessert experience. You'll want more because of the sweets' flawless balance. 
7. Kebabs
Delhi offers a wide variety of kebabs, including the delectable Kakori Kebab, the mouthwatering Galouti Kebab, and the delicious Shami Kebab. Enjoy a tempting array of kebabs that will sate your appetite. These kebabs are all bursting with flavors and spices that make you think of the Nawabs. The most succulent and mouthwatering non-vegetarian street cuisine in Delhi is this. Of all the other well-known foods in Delhi, kebabs are the most widely consumed.
8.

 

Aloo Tikki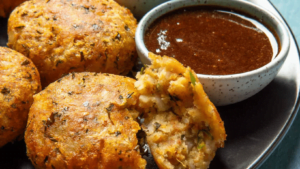 The well-known aloo tikki in Delhi is among the city's top street foods. You simply cannot skip this flavor explosion and then regret it. You must attempt this for the sake of your inner foodie's sanity.
9. Jalebi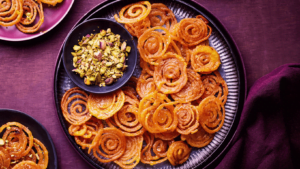 Popular street delicacy called jalebi consists of spirals of deep-fried wheat flour that are then covered in sweet syrup. It is a well-liked sweet dish that is frequently offered as dessert. Samosa and Jalebi combinations are also popular. If you have a sweet tooth, you should sample Delhi's desserts, baked goods, and cakes, which will undoubtedly satisfy your cravings.
10. Dabeli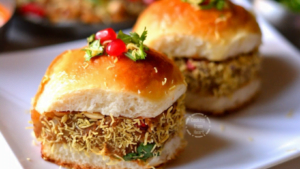 Although this renowned snack has its origins in Gujarat, it has gained popularity and has established itself as one of India's top street foods. The mixture, which is served with chutney, is stuffed inside a pav and is a very spicy street snack.
11. Raj Kachori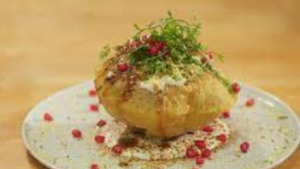 A huge circular kachori is stuffed with a mixture of potatoes, chickpeas, sprouts, and spices to make Raj Kachori, a common street snack. Yogurt, tamarind and mint chutney, and sev are then placed on top. Therefore, be sure to sample Delhi's top street food.
12. Pakode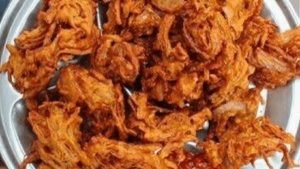 Although they come in many sizes and shapes, the usual ingredients for these fried street snacks include onions, spinach, aubergines, or cauliflower. Wherever you try them, pakoras are without a doubt among the best street dishes in Delhi.
13. Bhel Puri
Bhel puri, though a specialty of Mumbai, is a completely different animal in Delhi. It is decorated with flavors unique to Delhi, making it less dry than its Mumbai equivalent. Everyone should at least once try this popular street dish in Delhi since it is the ideal balance of salty, sour, and sweet.
14.

 

Chana Zor Garam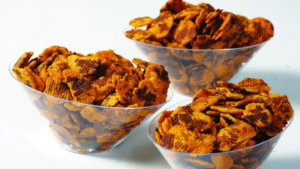 There are health advantages to eating this spiced chaat. It is a tasty appetizer that is high in protein. It is a tasty snack to enjoy! The greatest street food in Delhi for health-conscious chaat fans is chana zor garam.
15. Pav Bhaji
A well-known dish called Pav Bhaji is a popular street meal. Restaurants cannot match the flavor of it in the neighborhood shacks. This is the greatest nighttime street food in Delhi since it is a substantial meal that will fill you up!
16. Paneer Tikka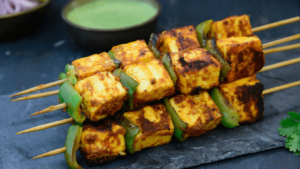 What about our very favorite Paneer Tikka when discussing street food? How it melts in your tongue when grilled in a tandoor and spice-marinated! Although it might not be Delhi's best street cuisine, there are few locations where it is a must-try.
Conclusion
Now that you have a list of the best 16 street foods in Delhi, when do you advise taking a day off to travel the city's streets and try them all? If you aren't already there, now is the time to plan your trip to Delhi and just go for the incredible food! For anyone visiting the city who wants to taste the authentic flavors of Delhi, these top 16 street food delicacies are a must-try. Happy Eating!