Surrounded by forests full of Cedar, Dharamshala sits on the edge of the great Himalayas.
Probably, being one of the most popular hill towns of India makes it the second winter capital of Himachal Pradesh. And, why not? Which city is destined to be in the lap of the Himalayas more than Dharamshala?
Atop the Kangra Valley, the city is located at an elevation of 1,457 meters above sea level.
The location, great Himalayas surrounding, valleys, and forests are what attract tourists, but other than these, Dharamshala is also renowned all over as the home to the Dalai Lama.
So, are you ready to dig deeper into the hillside city of Dharamshala?
This Dharamshala Travel Guide is going to take you on a virtual journey of the city. No bike, no cab, no noise; just you and Dharamshala.
Here's what's covered in this Dharamshala travel guide:
How to Get to Dharamshala
By Air: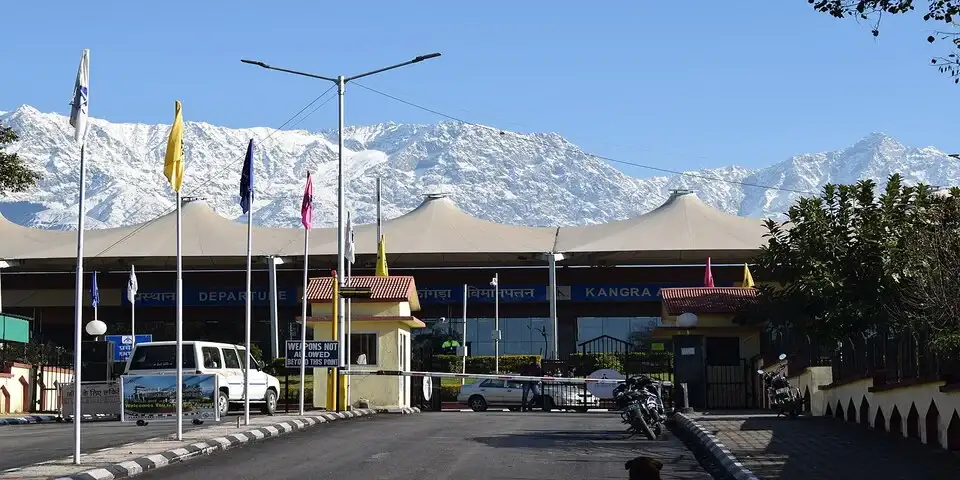 Officially known as Kangra Airport (DHM), Kangra-Gaggal Airport is situated 12 km away from the center of Dharamshala.
The airport is located in Gaggal and connects the city to other major cities like Delhi and Chandigarh via the airlines such as Jagson Airlines, Air India Regional, and SpiceJet. Don't worry about the flights, they are regular.
Once you arrive at the airport, you can opt for a bus or taxi to reach your destination hotel.
Read: Alwar Travel guide
By Rail: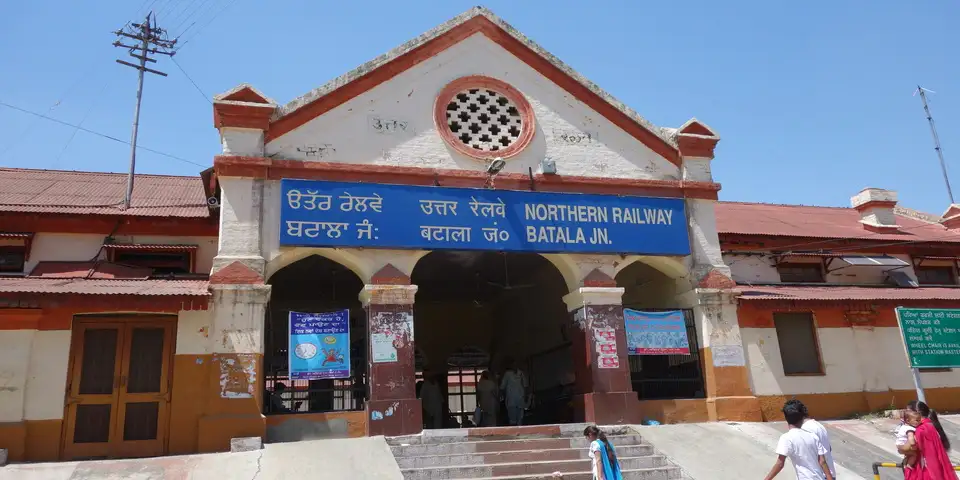 Dharamshala city does not have a railway station, and the closest one is 86 km away in the Pathankot district of Punjab named 'Pathankot Junction Railway Station.'
If you are coming from another city then choose a train that passes through or stops at this station, foreign tourists can easily get a train from Delhi to Pathankot.
By Road:
Dharamshala is located on national highways i.e., NH 154 and NH 503. This shows that the city is well-connected to other major Indian cities.
State-owned buses ply from one city to another. Following is the list of distances of Dharamshala from various cities:
Kangra – 29 km
Pathankot – 86 km
Dalhousie – 119 km
Jammu – 193 km
Shimla – 239 km
Dehradun – 396 km
Chandigarh – 241 km
Delhi – 486 km
Jaipur – 713 km
Lucknow – 919 km
Ahmedabad – 1,379 km
Mumbai – 1,850 km
Kolkata – 1,942 km
Hyderabad – 2,013 km
Bangalore – 2,603 km
Spectacular Sights to See in Dharamshala
Dharamshala Cricket Stadium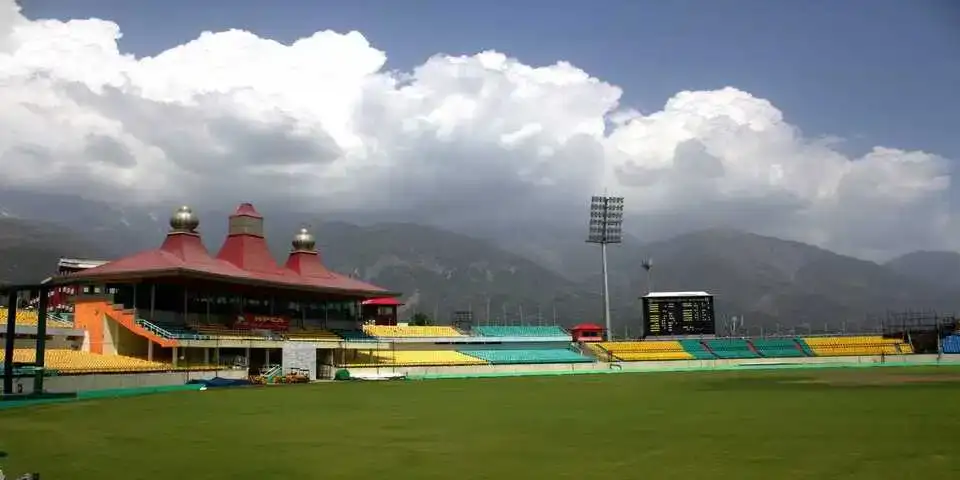 Originally named Himachal Pradesh Cricket Association (HPCA) Stadium, Dharamshala Cricket Stadium is situated at an elevation of 1,500 meters in the Kangra district.
With the backdrop of Himalayan ranges, this stadium is one of the best tourist places in Dharamshala. And that's why it is the first place on our list.
Triund
Triund is a hill station at an elevation of around three thousand meters and a distance of 17 km from the Dharamshala.
Imagine trekking through the forests full of Deodar and Oak trees and fascinating Rhododendron plants. It's simply a treat to the eyes. It is important to note that Triund hill is closed to trekking during January and February.
Apart from trekking, Triund is also a picnic spot as it offers you scenic views of the Dhauladhar range on one side and snow-capped valleys on another.
The War Memorial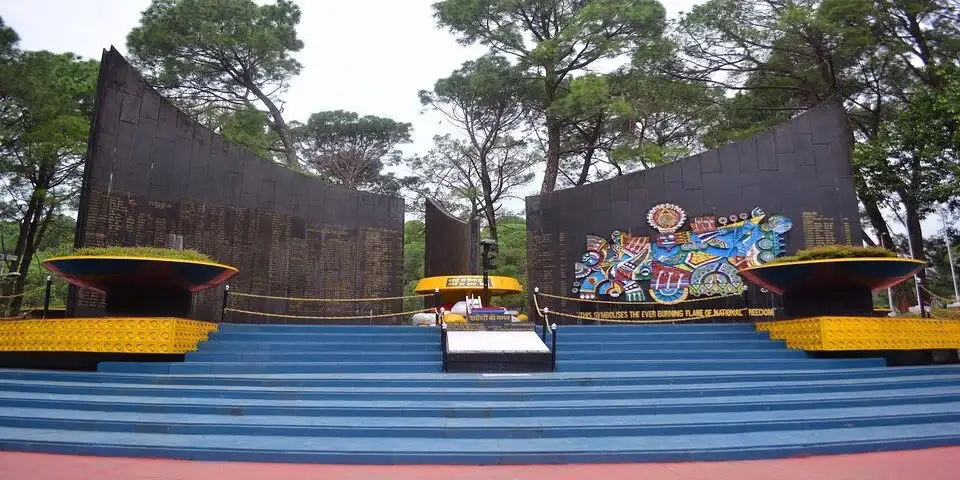 To take pride in The War Memorial, you have to go to the Jawahar Nagar colony in Dharamshala. There you will find this site on Kachehri road.
We don't think of money when it comes to our patriotism, but let us tell you that the entry fee is Rs 10 per adult.
Pay homage to the martyrs and see the war tanks.
Bharat Mata ki Jai!
Dal Lake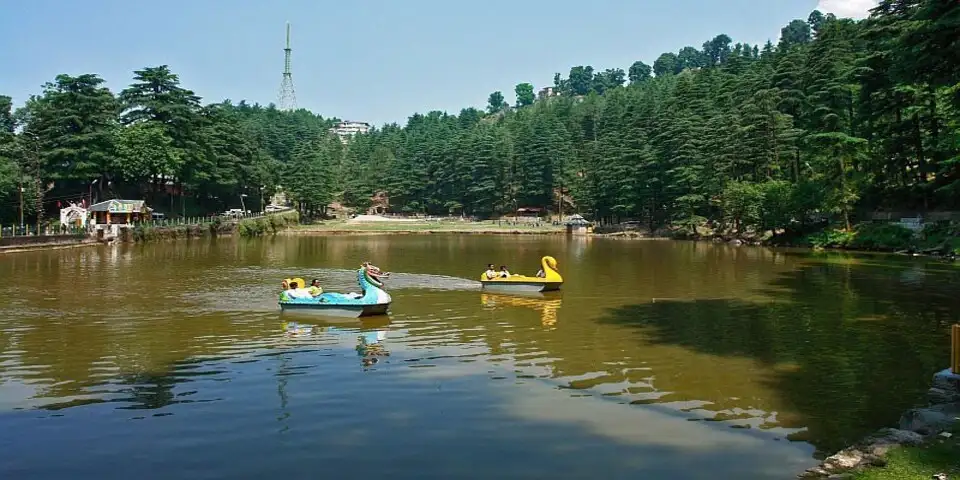 View of Dal Lake is just a mouth-shutting experience, as you need words to say something. But you don't find any words to explain the lake's scenery. But let me try.
When you arrive at the lake in the Mcleod Ganj, you feel like the Deodar trees around the lake are there, where they are, to hide the scenic beauty of the Dal Lake from external eyes.
Well, boating is quite a popular activity here. But you are allowed to do picnics also (for free).
Gyuto Monastery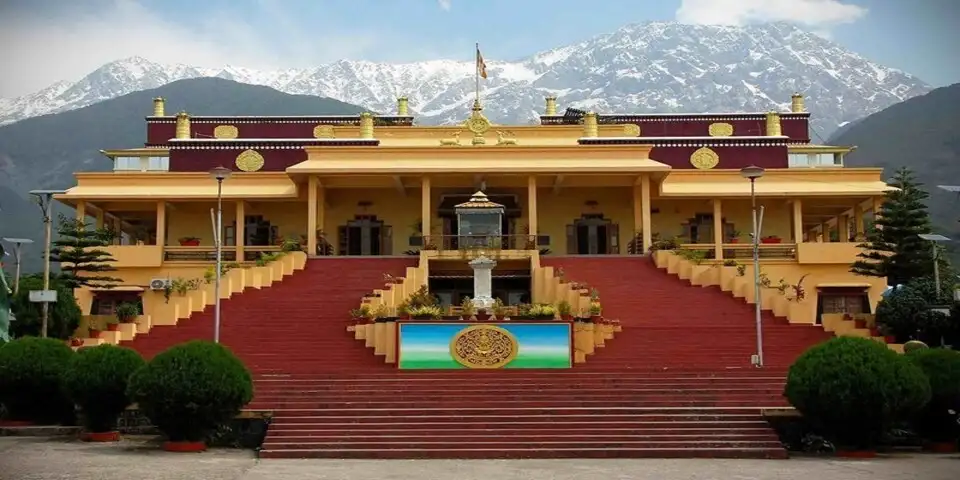 Founded in 1474, Gyuto Monastery now is one of the most popular monasteries of Dharmshala.
Popular because of the tantric meditation practices that disciples research upon and perform. But visitors are also attracted to it because of Buddhist philosophy.
Any time of the year, you can go there.
Bhagsu Waterfall
There are not more than a couple of waterfalls in Dharamshala. One of them is Bhagsu Waterfall, also known as Bhagsunag Waterfall.
It is on our list because it is popular among hikers and rock climbers alike.
To get a view of this panoramic 20-m-waterfall, you will need to travel one km from Bhagsunag Temple, a temple dedicated to Lord Shiva.
Dalai Lama Temple Complex
We all need peace in life, don't we? If you are also seeking answers to undefined questions, then you are welcome to one of the most peaceful places on the face of the earth – the Dalai Lama Temple Complex.
Also known as Tsuglakhang Temple, it is situated on Temple Road. Well, you don't need an address, it will automatically pull you.
When you are here, don't forget to see the strict training of monks and watch carefully how they fight the negative thoughts during their meditation sessions.
Best Places to Stay in Dharamshala
If not enjoying the misty hills of the Himalayan ranges by sitting in a quiet hotel in Dharamshala, then what else can you ask for?
We have found the best of the best hotels in Dharamshala for both budget travelers and one who wants to discover the luxury of this minimalist city.
If you are looking for cheap hotels having a budget of Rs 1000-3000 then go for:
Green Hotel
Backpackers Inn
Hotel Shiva Sanctuary
Hotel Sky Pie
As budget travelers, we often look for hotels in the range of Rs 3000-10,000. So, to ease your research, we suggest you the following hotels to stay in:
Prakriti Aalay
The Divine Hima
Hotel Triund Heights
The Posh Hotel
Now comes the list of some Richie hotels where you can absorb the luxurious environment and the soothing overlook:
Radisson Blu Resort
juSTa Birding Dharamshala Resort
Asia Health Resorts and Spa
What and Where to Eat in Dharamshala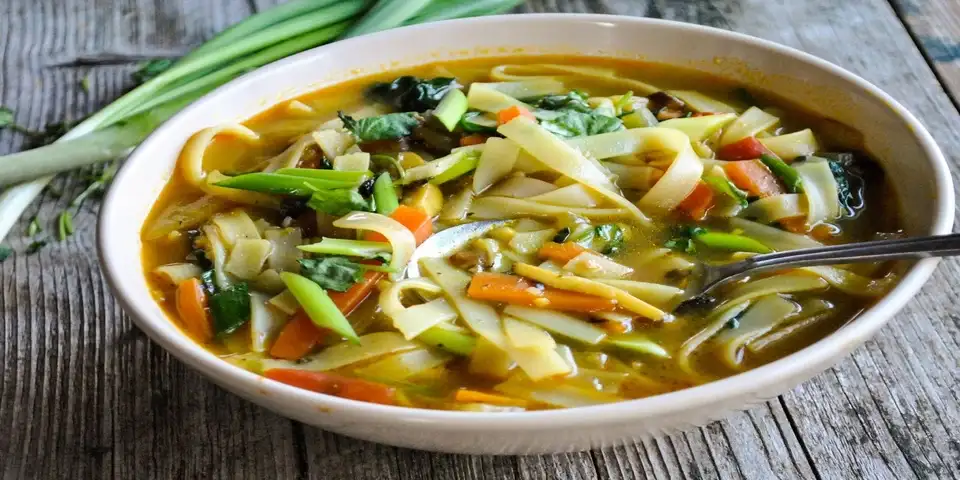 You know that Dharamshala is home to in-exile Tibetan people, so there is no doubt you will get to taste the mouth-watering Tibetan cuisine at every corner.
And you are also in Himachal Pradesh at the same time, so be ready to explore the Himachali cuisine too.
First, let's skim through the list of what to must-eat in Dharamshala, then we will head to some famous eateries. Here's the list:
Tudkiya Bhat
Thukpa
Momos
Shapta
Mittha
Bhagsu Cake
Alu Phing Sha
Clay Oven Pizza
And Maggi & Chai
Well, every restaurant and cafe is famed in Dharamshala and Mcleodganj area to serve the best food of the city, but if your tongue loves to taste variety then you can think of the following:
Tibet Kitchen (for Thukpa & Steamed vegetable dumplings)
Bodhi Greens (for Vegan food)
Lung Ta (for Miso soup and Sushi rolls)
Common Ground Cafe (for Himalayan and Chinese cuisine)
Morgan's place (for BBQ Chicken Pizza)
Where to Go for Shopping in Dharamshala
Kotwali Bazaar
One of the most popular markets in Dharamshala is Kotwali Bazaar, which is situated in Sudher.
Besides being the primary market of Dharamshala, it is also an old market and here you will get all items needed for daily life.
Because of its popularity, you will find the market crowded and busy all day, but that should not be something to stop you from shopping here.
You can shop for woolen garments like shawls, sweaters, cardigans, etc. Other than these products you will see shops filled with Tibetan heritage like trinkets and Buddha statues made of different materials.
Jogiwara Road Bazaar
Located on Temple Road in Mcleodganj, Jogiwara Road Bazaar is another market that is popular among tourists and locals.
Here you will find Tibetan-influenced products. Visit the market to shop for various jewelry like handcrafted bead necklaces, colorful beads, and beautiful gems.
If you want to take the spiritual environment of the city, back on your tour then you can also buy jewelry made of Buddhist healing stones.
After jewelry, comes the turn of Tibetan masks, bowls, and Thangkas, which are Tibetan Buddhist paintings made on cotton or silk appliqué, usually depicting a Buddhist deity or scene.
Divine Buddha Handicrafts
Near the Dolma Chowk in Mcleodganj, there is a shop by the name of 'Divine Buddha Handicrafts.'
You can guess what this shop is famous for in the area. Here you get outstanding statues of Lord Buddha made of stone beads, brass, wood, and even crystal.
You will also spot the Tibetan handicrafts and icons of locals, here and there in the shop.
Village Boutique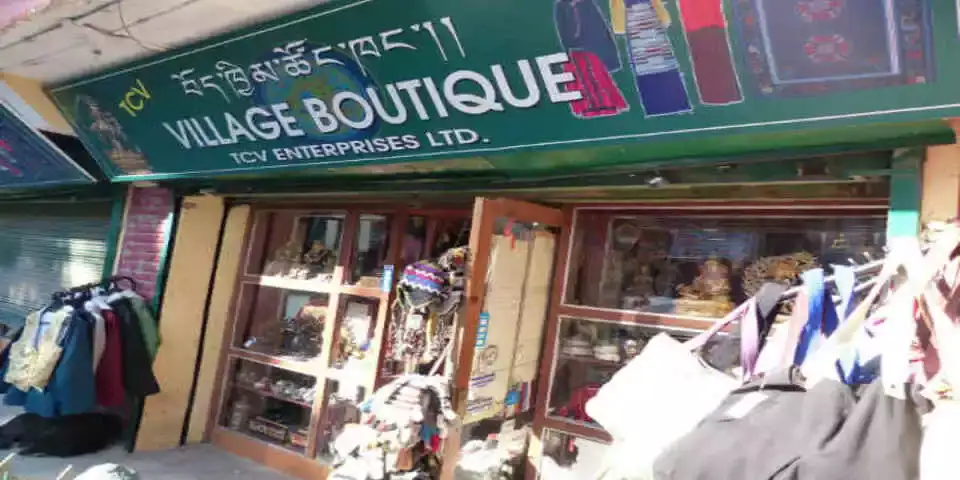 If you want to quench your thirst of seeing the authenticity of both Tibet and Himachal Pradesh simultaneously, the Village Boutique is ready to complete the task. And waiting for you in Mcleodganj.
It is obvious that you will find products of Tibetan heritage everywhere in Dharamshala, and the Village Boutique follows this ritual too. But, what makes this store a must-visit is the singing bowls.
Other than that you can buy wall hangings, books, etc.
Read: Best Delhi Market For Shopping
Fairs and Festivals in Dharamshala
Buddha Purnima Festival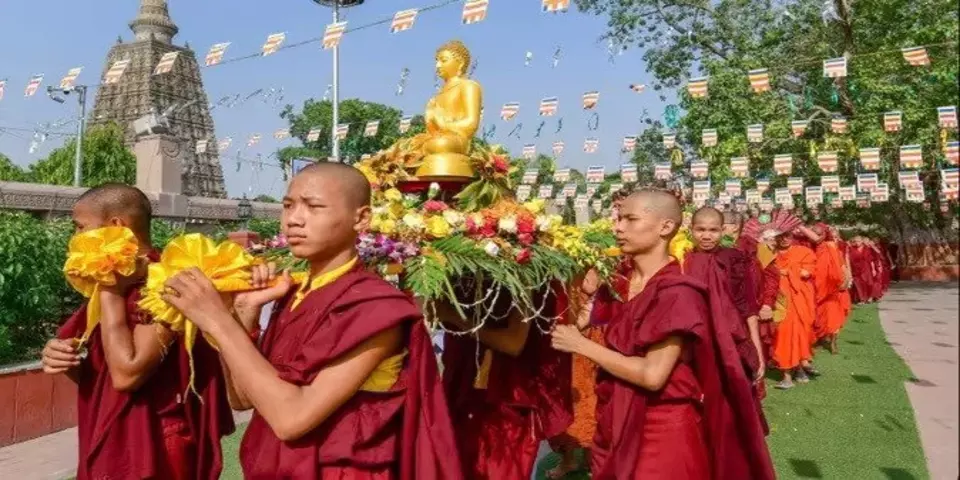 Buddha Purnima is Buddha's birthday and is one of the most celebrated festivals in Buddhism.
Dharamshala and Mcleodganj are home to exiled Tibetan people. These people follow Buddhism and with full heart and enthusiasm celebrate the birthday of the founder of their religion.
Buddha Purnima falls in the months between March and April.
Drupka Teshi Festival
Drupka Teshi is celebrated between August to September, and this was the day when Gautam Buddha gave his first sermon to his five disciples in Sarnath i.e., Buddha turned the "Wheel of Dharma" for the first time.
The zeal of the devotees of Drupka Teshi Festival is something worth seeing.
Losar Festival
Also known as Tibetan New Year, Losar is a festival in Tibetan Buddhism. As the religion's followers are spread worldwide, it is celebrated on different dates as per the location tradition.
But, in Dharamshala, you can find people celebrating this festival during February and March. It is not just a one-day festival, sometimes the celebration gets stretched for the whole month.
The time around Feb and March is considered tourism season in Dharamshala, so if you have a plan to visit the city, you can spot several other tourists in the city's fairs.
Kangra Valley Summer Festival
The Summer Festival in Kangra Valley is celebrated to promote local artistry, handicrafts, and souvenirs.
This festival has fairs and displays that are organized by several departments. The festival primarily offers a variety of teas grown in the Kangra Valley.
Items from different industries are also included at this annual fair. The general public can purchase the merchandise at this exhibition.
The Kangra Valley Summer Festival attracts visitors from nearby cities, and neighboring countries mainly Tibet.
Are you planning a trip to the north of India? Read our Rishikesh Travel Guide