What can be a better way to understand the raw essence of a place and discover its lifestyle than to hit the streets and forage in its markets? The capital city of Delhi has been built and rebuilt for centuries. The rich diversity of its inhabitants and the economy of the entire nation is well reflected in the markets of Delhi. The city has grown exponentially and is dotted with numerous posh, air-conditioned shopping malls. But the true essence of Delhi lies in its byzantine bazaars bestrewed throughout the city. A trip to Delhi is incomplete without a stroll through its enthralling markets.
Here are the 6 Best Delhi Markets for Shopping
1. Chandni Chowk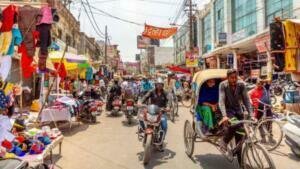 Chandni Chowk is the oldest shopping place in Delhi. Located at the heart of the city, it has been around for more than three hundred years! Once the principal bazaar of the walled city and visited by merchants from the whole of Asia and Europe, it still remains the most popular market in Delhi. Walk down the historic alleys of the bustling markets with a Chandni Chowk tour, like a Mughal gasping in awe!
What to buy– Traditional Indian attire (especially lehengas to wear at a wedding), fine jewelry at Shri Ram Hari Ram Jewelers- the oldest in the market, and Perfumes at Gulab Singh Johrimal.
What to eat– On our chandani chowk food walk, cover 100 types of Paranthas at the iconic Paranthe Wali Gali, Kachoris at Jung Bahadur Kachori Wala, Desserts at Hazari Lal Khurchan Wale, and Chaina Ram Sindhi Halwai, Lip-smacking jalebis at Old Famous Jalebi Wala that has been around since 1884, Rabri Falooda at Giani di Hatti, Indian snacks at Haldiram's. 
Nearest Metro Station– Chandni Chowk (Yellow Line)
Book your Delhi Shopping Tour with us.
2. Chawri Bazar
Claimed to be the largest market in Asia for paper products, Chawri Bazar is also the right place for purchasing copper and brass antiques to take back home. Copper is much cheaper in India than in the US, UK, and several other countries. Drinking water stored in Copper containers have numerous health benefits. The market is located to the west of Jama Masjid.
What to buy– Copper, brass, and paper products.
What to eat– Stuffed fruit kulfis at Kuremal Mohanlal Kulfiwale, Daulat ki Chaat– a delicacy available only in winters.
Nearest Metro Station– Chawri Bazar (Yellow Line)
3. Connaught Place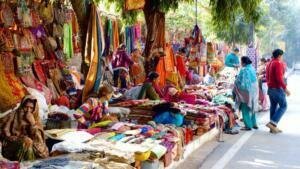 Built-in 1929, Connaught Place continues to be a super popular place to hang out and shop. It is a sprawling marketplace built in two mammoth concentric circles, having Central Park at its core. Showrooms of all major high-end brands, restaurants, movie theaters, Madame Tussaud's Wax Museum, and quaint cafes line this place.
What to buy– Clothes from various brands, Handlooms, and natural products from Khadi India, Books at Jain Book Depot.
What to eat– South Indian food at Sarvana Bhawan, Pastries and confectionaries at Wenger's that have been around since 1924, Fire Paan, Light eats, and coffee at the Indian Coffee House which was first opened in 1957.
Nearest Metro Station– Rajiv Chowk (Blue & Yellow Lines)
Read: Best Cheap Bars in New Delhi
4. Janpath Market
One of the flea markets in Delhi, Janpath Market, is next to Connaught Place. It offers a wide range of clothes and accessories at cheap prices. Tibetan handicrafts are the main highlight here. One must have good bargaining skills to get products at amazing prices here. Read more about bargaining skills here to acquire this beneficial life hack.
What to buy– Handlooms from various state emporiums located in the market, such as Pashmina shawl from Jammu and Kashmir Emporium, Tibetan beads, scarves, handicrafts, and quirky jewelries.
What to eat– Momos– famous dumplings in Delhi, Cold coffee.
Nearest Metro Station– Rajiv Chowk (Blue & Yellow Lines)
Planning to explore India's old heritage walking tour connect with us! 
5. Khan Market
The most upscale market in Delhi, Khan Market has some of the top labels in clothing and eateries. Well-stocked bookstores and Ayurvedic stores, quaint cafes, and classy lounges are the highlights of this small market.
What to buy– Clothes, Books, Ayurvedic cosmetics, and essential oils.
What to eat– Cakes at The Big Chill Cafe, Oriental Indian cuisine at Wok in the Clouds, Persian food at Soda Bottle Openerwala.
Nearest Metro Station– Khan Market (Violet Line)
6. Dilli Haat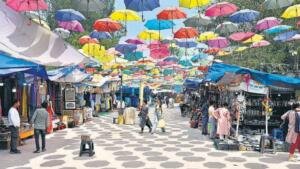 Dilli Haat is an open-air market In Delhi that deals with traditional handlooms, crafts, and ethnic food from all corners of India. It is managed by the Government of Delhi and is very neat and well-maintained. Entry fees for visitors from outside India are Rs 100. There are three Dilli Haats- at INA, Pritampura, and Janakpuri, of which the one at INA is the most popular. Look out for exhibitions organized at the venue from time to time.
What to buy– Clothes, Accessories, Jewelry, and Accessories from various stalls.
What to eat– Authentic cuisines from various states at their counters.
Nearest Metro Station– INA (Yellow Line)
The roadside shopping experience in Delhi is a treat with its wide array of choices and variety of colors and fragrances around. The diversity of delhi food in these markets is worth drooling for. Hit the streets when you are in Delhi and shop till you drop!
Read our latest article about: Best Things to Do in Delhi