Dharamshala is a well-liked tourist attraction in India because of its beautiful vegetation and spirituality. It serves as the state of Himachal Pradesh's winter capital. Dharamshala is a beautiful location, having everything from tall hills to tinier picturesque hamlets. It is renowned for its camping areas and treks across the Himalayas. Buddhism is another factor that makes Dharamshala a well-liked pilgrimage destination. It is also home to many Tibetan monks and citizens. There are several of well-known sites to explore around. The following list of well-known locations that you shouldn't skip while travelling will give you some ideas:
1. Namgyal Monastery
The Dalai Lama Temple complex, also known as Namgyal monastery, is the residence of the 14th Dalai Lama and a well-known tourist destination in Dharamshala. It serves as the Indian home of Tibetan Buddhism. The monastery's setting, which is home to numerous Tibetan monks, envelops us in its spiritual pleasure. February through June is the ideal time to visit this well-known location in Dharamshala, which sits on the McLeod Ganj.
Visiting hours: 5:00 AM to 8:00 PM
2. Kangra Fort
The Kangra Fort, one of the oldest in India, is the biggest fort in the Himalayas. One of Dharamshala's most well-known tourist destinations is this historical site. Another significant draw of this fort is its mosque. This fort, which is 20 kilometres from Dharamshala, was constructed in the fourth century B.C. by the Rajput dynasty of the Kangra empire. It is one of the most well-known destinations in Dharamshala.
Things to see include the Ambica Devi Temple, Masroor Rock-cut Temple, and Kangra Fort Museum.
Timings: 9:00am to 5:30pm
Read: Budget Friendly Travelling 
3. Triund Hill station
A little hill town called Triund can be found at the base of the Dhauladhar Ranges. The hiking routes in this charming location are well-known. One of the shortest and simplest hikes in the Himalayas is the 9 kilometre Triund Trek. This magnificent beauty, which is 7,700 feet above sea level, is known as the "crown of Dharamshala." Another feature of the Triund hill station is the magnificent vista of the Great Himalayan Ranges.
4. McLeod Ganj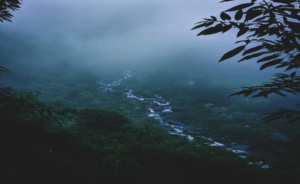 McLeod Ganj is referred to as small "Lhasa" because of the Tibetan community there. One of the well-known destinations to visit in this region is McLeod Ganj, which is home to numerous temples, monasteries, museums, waterfalls, and Tibetan Settlements.
McLeod Ganj is a charming area encircled by lush flora and towering hills, close to upper Dharamshala. The ideal time to visit McLeod Ganj is during the monsoon season.
Read about: Stunning lakes in Dharamshala
5. HPCA Stadium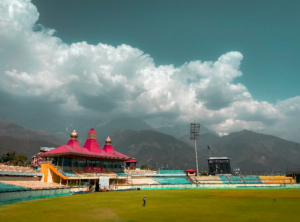 In Dharamshala, the Himachal Pradesh Cricket Association Stadium is a special location. Many domestic and IPL games have taken place in this stadium. Every fan of cricket has a favourite spot there. This high altitude Stadium, which has the gorgeous Himalayan Mountains as its backdrop, is a popular tourist destination and one of the must-see locations in Dharamshala.
6. Kangra Valley
Kangra Valley, which is surrounded by lush vegetation, waterfalls, green meadows, and steep hills, is a favourite vacation spot for all nature lovers. The River Beas and several perennial streams in this valley, which is located in the Western Himalayas, add to its splendour. There are numerous rare plant and animal species that call this river valley home. Kangra Valley is one of the well-known tourist spots in Dharamshala and is a stunning beauty.
7. Dharamkot
Near Dharamshala, on the picturesque McLeod Ganj, is the lovely hill town of Dharamkot. Numerous Himalayan treks, including Triund, Illaqua, and Indrahar Pass, start from here. Dharamkot is known as "Tel Aviv of Hills" because to the presence of a Jewish Community Center called "Chabad House." Israeli cuisine is available in many local restaurants. It is yet another important factor in Dharamkot's appeal.
8. St. John in the Wilderness Church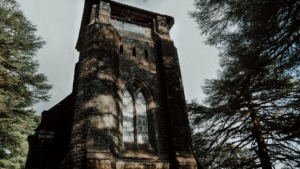 This 1852-built protestant church honouring John the Baptist is encircled by lovely deodar trees. The building is neo-gothic and has Belgian stained glass windows. Another noteworthy feature of this church is its picturesque churchyard. It is one of Dharamshala's well-known locations.
"Planning to explore India's rich beauty contact us."
9. Gyuto Monastery
Gyuto Monastery, one of the well-known monasteries and a well-liked landmark in Dharamshala, is the residence of many Tibetan monks. The centre of study for tantric meditation is the Gyuto monastery. Gyoto monks are renowned for their distinctive style of overtone singing or chordal chanting.
5:00 am to 4:30 pm and 6:00 pm to 8:00 pm are the hours.
10. Bhagsu Waterfall
One of the well-known tourist attractions in Dharamshala is the Bhagsu waterfall. Near this waterfall lies the historic Bhagsunag Temple. Bhagsu Waterfall is one of the most well-known locations in Dharamshala due to its proximity to treks like McLeod Ganj, Triund, and Dharamkot.
Planning a trip to Dharamshala? Know about best time to visit dharamshala
FAQ
1. How long does it take to get around Dharamshala?
Answer: You can explore Dharamshala in four days or less.