Every season shines brilliantly in Dharamshala. Each season has something special to offer because of the gorgeous Dhauladhar ranges and McLeod Ganj's presence. Certain seasons have more lovely tourist locations. Let's examine in detail Dharamshala's seasonal changes:
Summer Season
Summer lasts from March to June in Dharamshala. Dharamshala can be your refuge if you're looking to escape the oppressive heat. Generally speaking, the period of year has favourable weather. The greatest season for camping and hiking is now. In the summer, the temperature fluctuates from 20 to 35 degrees Celsius. In Dharamshala, it is the busiest season for travellers.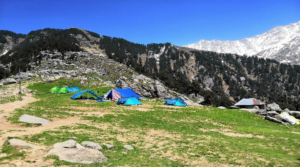 Best places to visit:
Tsuglagkhang complex
Bhagsunag Temple
Namgyal Monastery
Naddi Village
HPCA' Stadium
State Art Museum
Read: Lakes in Dharamshala
Monsoon Season
It rains from July to September at this time. In this time of year, Dharamshala has heavy rainfall. Every lake and waterfall will be in all of its splendour. Nature will be abundant with vibrant greenery. Your day will be full with love and hope thanks to the showers. The best time to go and sample the hot drinks in Dharamshala is now.
Places to visit:
Bhagsu Waterfalls
Kareri lake
Monsoon trekking
Bird watching.
Read: Tourists Circuits Of India
Winter Season
Winter lasts from December through February in Dharamshala. During the winter, Dharamshala is a magnificent delight for the eyes. The nicest things we can see here in the winter are the mountains covered in snow and the tiny hamlets covered in snow. The temperature drops to negative numbers. Skiing and other indoor activities are best during this period.
Places to visit:
McLeod Ganj
Valleys
Rivers.
Aside from these things to do, Dharamshala offers a variety of seasonal activities and places to explore. In Dharamshala, the grandeur of nature can be clearly seen in any season. Every season, but notably during the summer, the town is crowded with visitors. You may appreciate the splendour of each season in Dharamshala.
FAQ's
Is it safe to travel while it's raining?
While there are numerous sites to explore in Dharamshala during the monsoon, some locations, such as waterfalls and lakes, are not advised due to safety concerns. Due to the heavy rain, certain paths and roads can be impassable. Additionally not advised at this time is trekking.