Located in the outskirts of the Majestic Dhauladhar Ranges and the mountains of McLeod Ganj, Dharamshala is home to many small and large lakes. These pristine lakes are one of the popular attractions that make Dharamshala, a famous tourist destination in India. These high and medium-altitude lakes are the seats of many exotic organisms and many of these lakes have religious significance too. Trekking to these lakes is one of the must-do activities in Dharamshala. There are many temples, waterfalls, hills beautiful hamlets, meadows, and many other scenic beauties associated with these lakes. This article will introduce some of the major lakes in dharamshala.
Lakes in Dharamshala
1. Kareri Lake
The Dhauladhar Ranges are home to the high-altitude freshwater lake known as Kareri Lake. Kareri Lake is located at an elevation of 2,934 meters above sea level, around 9 kilometers northwest of Dharamshala. This lake's primary water source is snowmelt from the Dhauladhar Ranges. It is one of the most well-liked places for trekking in Dharamshala. The finest months to see this charming beauty are May to July and September to November.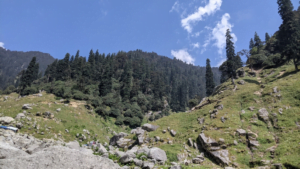 Places to visit near: Dharamkot village, Kangra Art Museum, The Bhagsu Waterfall, and St. John's in the Wilderness church.
Read: Wildlife Sanctuaries in India
2. Dal Lake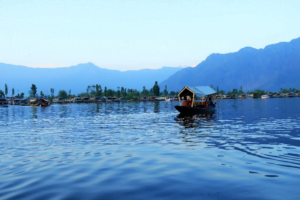 You shouldn't skip Dal Lake on your trip to Dharamshala because it is a well-known mid-Altitude Lake. Dal Lake is a stunning natural feature surrounded by lush Deodar woods. The focal point of this lake is a temple devoted to Lord Shiva. The finest months to explore Dal Lake, which is close to the picturesque village of "Tota Rani," are from May through October.
3. Lam Dal Lake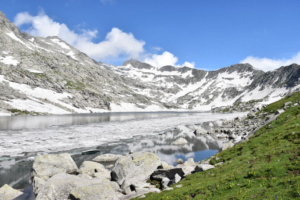 One of the lakes in the Dhauladhar Ranges with easy access is called Lam Dal. It is also of the simpler trekking routes in the area. One of the most well-known tourist locations is Lam Dal, which is situated at a height of 3,900 metres. The lake's surrounding little caverns are its main draw. The "Gaddi," or local shepherds, use these caverns. With a 2.5km radius, it is the biggest lake in the vicinity. One of the well-liked activities in the area is camping close to Lam Dal.
4. Dehnasar Lake
Dehnasar Lake, a high altitude fresh water lake close to Dharamshala, is situated 4,280 metres above sea level. Another draw here are the rocky cliffs. People congregate at Dehnasar Lake in Kullu, Kangra, and Mandi as part of the Bhadrapada or Bhaado festival to take the holy bath. The final week of August or the first week of September are often when it happens.
5. Nag Dal Lake
On the magnificent Dhauladhar Ranges, a notable high-altitude lake known as Nag Dal may be found in a hanging valley. The Dhauladhar ranges' seven lake treks can be accessed from McLeod Ganj through the Nag Dal walk. Nag Dal, a well-liked lake close to Dharamshala, is also referred to as the cobra lake. It is a well-known pilgrimage destination where people flock to worship the deity of "Nag Devta" during the "Janmashtami" festivities.
Read: Common Travel Scam
6. Chanderkup Lake
A lake at a high elevation can be found in the Dhauladhar Ranges. Chanderkup Lake, which is 3450 metres above sea level, is also known as "iceberg Lake" because of the ice blocks that float on its surface. The majority of the time, it is covered in snow, and the terrain is difficult and steep.
7. Nag Chhatri Dal
The Indrahara pass is close to Nag Chhatri Dal, also known as King Cobra Lake. In the Dhauladhar ranges, Nag Chhatri, a well-known lake, is located at a height of 4200 metres. As part of the "Manimahesh Yathra," worshippers used to take a sacred bath at this lake.
8. Kalikund
Lake Kalikund is well revered. It is located 150 metres below the Lam Dal at a height of 3900 metres above sea level. It can be reached through Minikiani Pass.
The seven lake hikes in the Dhauladhar Mountains include Nag Dal, Lam Dal, Kalikund, Kareri Lake, Chanderkup Lake, Sukh Dal, and Dham Ghodi Dal. It is a must-do experience that you shouldn't skip while travelling. In addition to these, you will come across numerous additional tiny and large lakes, particularly while trekking. There are lakes created by humans in addition to the glacial lakes. Don't pass up the opportunity to explore these magnificent waterways and make your journey as beautiful as you can.
FAQ
1. How many days are required to finish the Dhauladhars' seven lake treks?
To finish the hiking, you'll need about 7 days.
2. When is the best time to go hiking?
In April and May, the lakes are frozen. When the snow melts in June, trekking typically begins.
3. How many paths can one take to reach the lake?
There are two ways, to be precise. One of them departs from Triund, while the other one leaves from Kareri Village.
4. What time of year is ideal for a trip to Dharamshala?
You may visit Dharamshala all year long because it has unique charm in each season.