Agra is a beautiful city in Uttar Pradesh. Even though many of you know Agra because of the Taj Mahal there is a lot more to explore. Spending 4 to 5 days in Agra will not be enough if you want to explore the city, taste its food, visit out-of-the-box locations, and shop your heart out. There are plenty of things to see in Agra and this article is here to help you.
Take the Agra walking tour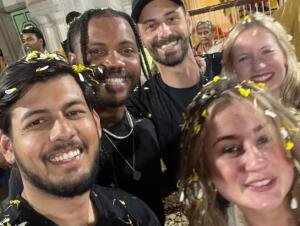 If you want to explore any city deeply we would suggest you take the walking tour. If you enjoy cycling then you can try that as well in some cities. The Agra walking tour is provided by individual guides or travel agents, you can choose whatever suits you best. To get some of the best recommendations you can connect with a Trocals executive.
Explore Agra on our way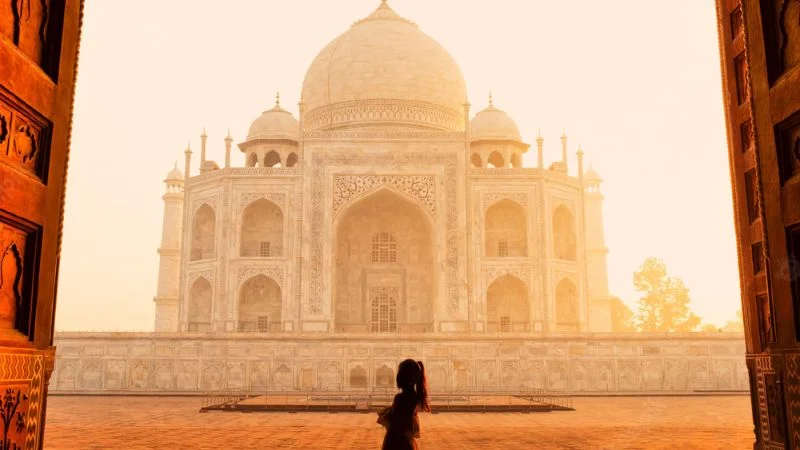 We all know that Agra is famous for the Taj Mahal but do you know what other things are in Agra which is also famous? Here we have listed down all the places that you can visit in Agra to make your tour memorable.
Agra tourist places that you cannot miss out
When it comes to Agra tourist places the first thing that comes to mind is the Taj Mahal. The following list speaks about other places to visit in Agra.
Agra Fort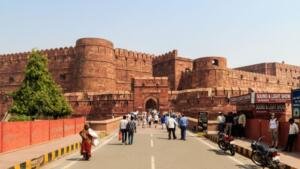 This is a palace in Agra which was used by the Mughal royal family. You can see a distant view of the Taj Mahal from here. The fort tells about the architecture, design, and the attacks it faced from the British Colonisers. You can hire a guide to know about the fort in detail. A major part of the fort is open to visitors and some part is used by the Indian Army.
Read: Agra Travel Guide
Anguri Bagh
A beautiful garden is well maintained. You can spend a day here with your family. A great picnic spot.
Taj Museum
This museum showcases different historical artefacts which belong to the Mughal era. The ticket to the Taj Mahal includes a visit to this museum. You can see multiple historical elements that will take you to the era where these elements were used.
Take Village Walk Tour In Agra to explore agra deeper.
Ram Bagh
Another beautiful garden which is ideal for clicking pictures. You need a ticket to enter the garden. If you are a content creator then you can get some nice shots here.
Sur Sarovar Bird Sanctuary
About 20km away from Agra city you can visit this nature-loved place. This bird sanctuary is a little far from the city but if you love nature then you will have a great time here. A perfect place for photographers to capture uncommon birds.
Try these famous food destinations when you are in Agra
Taking the Agra food walk will be interesting if you enjoy trying different foods, street food, the local food. The food walk tour will take you to different places to explore the food of Agra in a better way. Apart from the food tour, you can also visit the food joints that we have listed.
Panchi Petha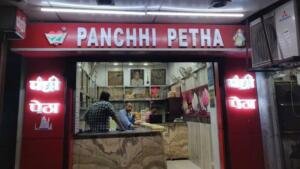 To try the most delicious local sweets in Agra visit Panchi Petha, a renowned sweet shop. They offer a wide variety of Petha and some of the bests are Angoori Petha, Pan Petha, Chocolate Petha and Kesar Petha.
Ram Babu Paratha Bhandar
Snack on some delicious parathas at the Ram Babu Paratha Bhandar. They have two branches in Agra, you can go to any one of them that is nearby. They offer a variety of paratha with dahi and achar.
Mama Chicken or Mama Franky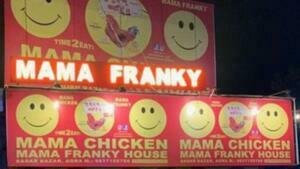 Visit here for some lip-smacking kebabs, wraps, and shawarmas. It is an ideal place for all non-vegetarians.
Agra Chaat House
If you love chaat then you must visit the chaat gali of Agra in Sadar bazar. There is a famous shop called Agra Chaat House which sells the most delicious chaat in all of Agra. In that same gali, you can also find some other sellers of chaat which are equally delicious.
Famous Restaurants in Agra
Visiting Agra is not all about street food or small restaurants. To experience the elegance you can visit some of the best restaurants there. We suggest visiting Peshawri, The Salt Café Kitchen & Bar, Pinch of Spice, Dasaprakash, Jahanpanah, Espahan, and Deviram Sweets & Restaurants.
Best Markets to Shop In Agra
Kinari Bazar
There are multiple amazing markets for shopping but one of the Famous things in Agra is their handicrafts. Kinari Bazar is the ideal place to shop for some handicrafts of Marble, glass, rugs, textiles etc.
Read: Handicrafts in Agra
Sadar Bazar
Sadar Bazar is the most ideal place to shop for almost everything that you could find in Agra. This is the most popular market in Agra. Filled with shops and restaurants, you can buy some leather goods, they have the best quality collection over there.
Subhash Bazar
The best place to shop for silk items. This market is famous for the silk saree collection. There are other silk products as well. You need to bargain a bit here as they quote quite a higher price. If you understand the fabric then you can buy some good quality silk products from here.
Read: Marble Handicrafts in Agra
Conclusion
Agra has a lot to offer and if you want to explore the city then we will suggest you take 3-4 days in hand. You can easily reach Agra by flight, train or road. There are some beautiful religious places as well that you can visit. Plan your itinerary today and if you need help we are here.