Varanasi is one of the holy places in Hinduism. And because of the influence of the Aryan culture, you will not find meat shops in the region except a few.
So, talking about Varanasi or Banaras, is it just a Hindu destination or more?
The answer is that this place is full of surprises and the revealed one that we know is street food in Varanasi.
Believe us! You could be a tourist or a pilgrim, but when you leave the city, you would be a foodie; a 24-carat-foodie.
What's particular about the street food of Varanasi? Let's know it together in a virtual Varanasi street food tour.
And to make this trip easy, we have enlisted the best street food in Varanasi, so we do not get lost anywhere in the bustling gullies.
List of Best Street Food in Varanasi
1. Baati Chokha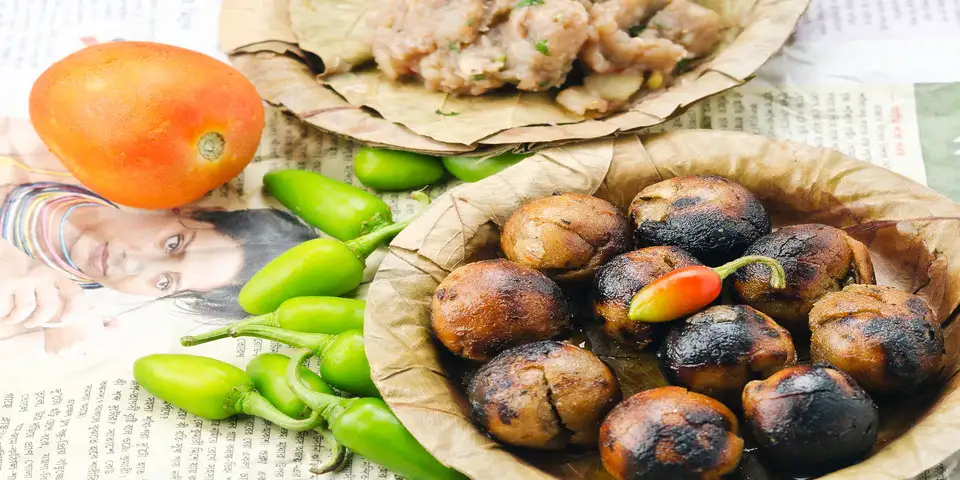 If you have ever been to Rajasthan, you would know what a baati is.
It is wheat doughed balls, roasted in and/or over charcoal.
And chokha is the mixture of various vegetables including tomatoes, mashed potatoes, brijals, and spices.
As it is famous street food in Varanasi, you will find Baati Chokha stalls wherever you go.
2. Kachori Sabzi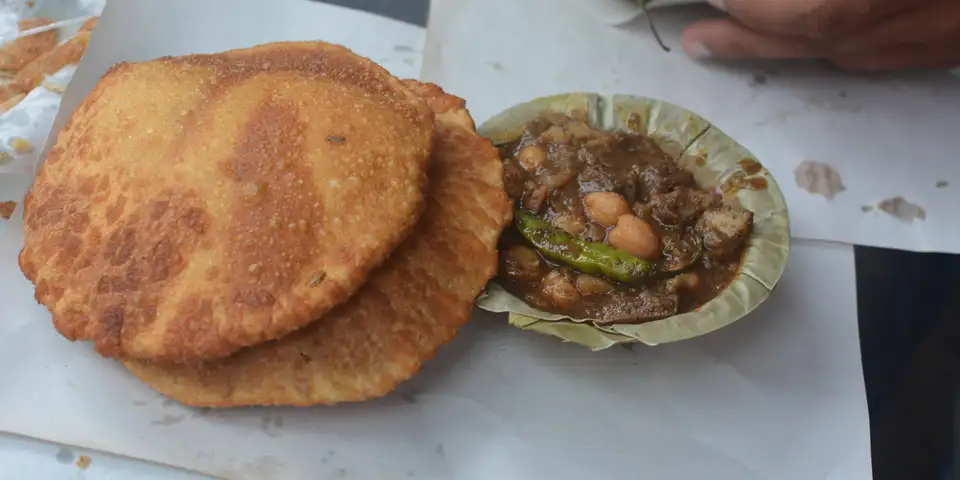 Whatever type of food you prefer during your breakfast, once you land nearby a stall of kachori sabzi, you will have to admit that this is the best breakfast option.
And for real, kachori sabzi is the most-preferred breakfast here in Varanasi and that is why it is on our list of best street food in Varanasi.
Refined wheat flour is stuffed with lentils and then get fried which we call kachoris and Sabzi is hindi word for vegetable.
Usually, you get potato gravy as sabzi with kachori.
You can get best kachori in varanasi at Ram Bhandar, Kachori Gali, Thatheri Bazaar, Madhur Milan, and Chachi ki Dukaan in Lanka.
Also Read: Best Street Food Tour in Jodhpur
3. Chooda Matar
If you have ever tasted poha, then your tongue will feel the same taste while taking in Chooda Matar.
You can call this snack, the banarasi version of Poha, which is definitely worth considering one of the best street food in Varanasi.
First they take flattened rice and then stir-fry them in desi ghee along with peas (matar). And to enhance the taste of the dish they add saffron, milk, coriander, raisins, etc.
4. Tamatar Chaat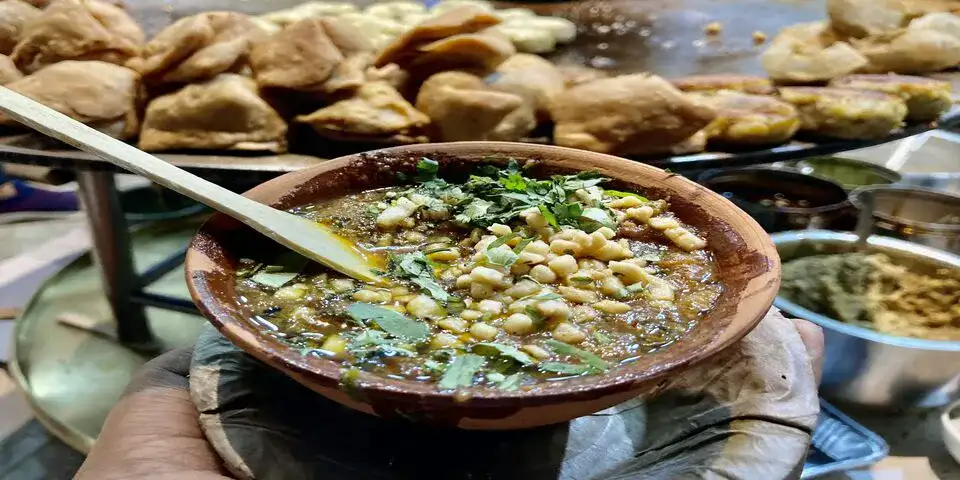 Now, let's talk about the benarasi version of Aloo chaat, another best street food in Varanasi.
Tamatar chaat is a dish made of tomatoes, mashed potatoes, hing, coriander, and other spices.
You will find the best chaat in Varanasi at Kashi Chaat Bhandar and Deena Chaat Bhandar.
5. Golgappe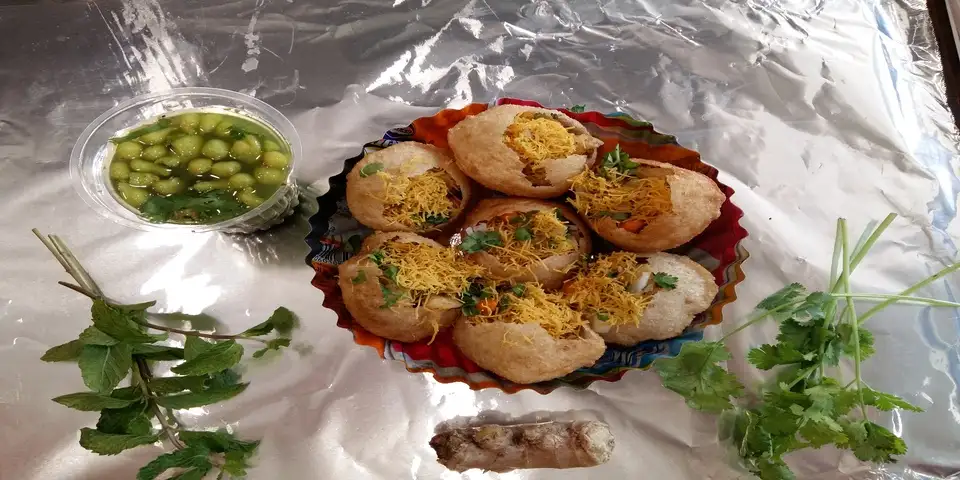 It is still a secret that what makes pani puri, the food-love of most of the Indians.
Call it whatever you want: pani puri, pani patashe, golgappe, but the love would be the same with any chosen name.
Golgappe are the small puris made of maida and then according to your taste, you can choose either the normal golgappe where you are given them with tamarind water or golgappe with dahi chutney.
Maybe teh tangy tasted is what makes Pani Puri one of the best street food in Varanasi.
6. Malai Toast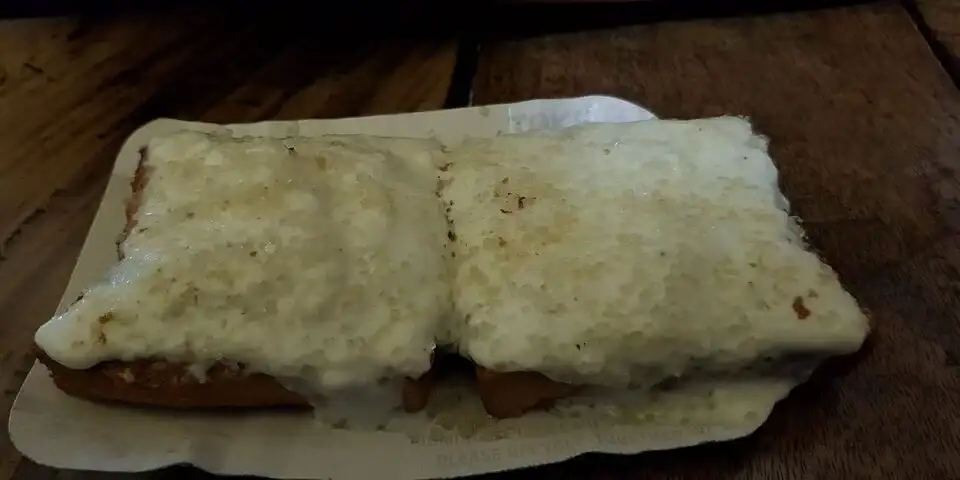 Malai toast, which is also known as Safed Makkhan, is white or yellow butter applied over toasted bread.
First they toast a local bread over the coal over and then apply your preferred type of butter over it.
Malai Toast also serves as one of the breakfast options in Varanasi.
So, it is on you; if you do not want to go with kachori sabzi, malai toast is for you.
7. Malaiyo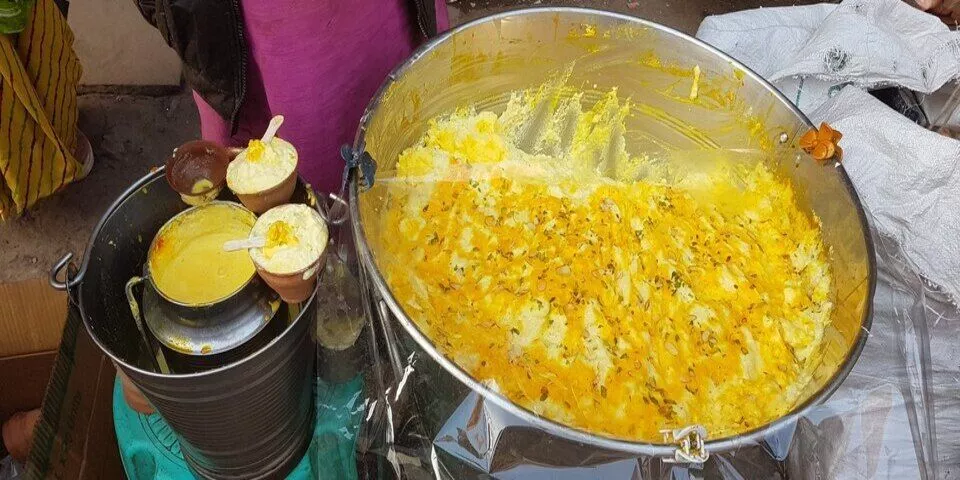 Everyone in Varanasi wish that Malaiyo should be available to them for all months of the year as they get to taste this dessert only in the winter season.
From November to February, you will find shopowners selling milk froth garnished with almonds, pistachios, and saffron in kullhads (earthern cups) and people enjoying them heartedly.
Whenver you visit Varanasi in winter, you must taste malaiyo.
8. Lassi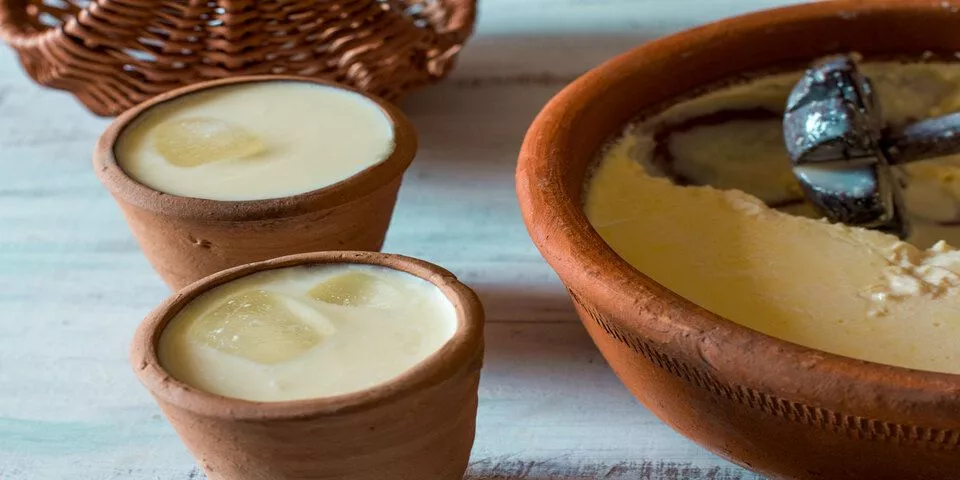 Everywhere in India, lassi is made of malai cream. But it tastes different region-to-region.
Varanasi lassi also has its unique taste, but the flavors you get make you think which one is your favorite.
Alone the Blue Lassi Shop in Kachori Gali offers you lassi of 83 varieties, let alone other shops in Varanasi.
9. Launglata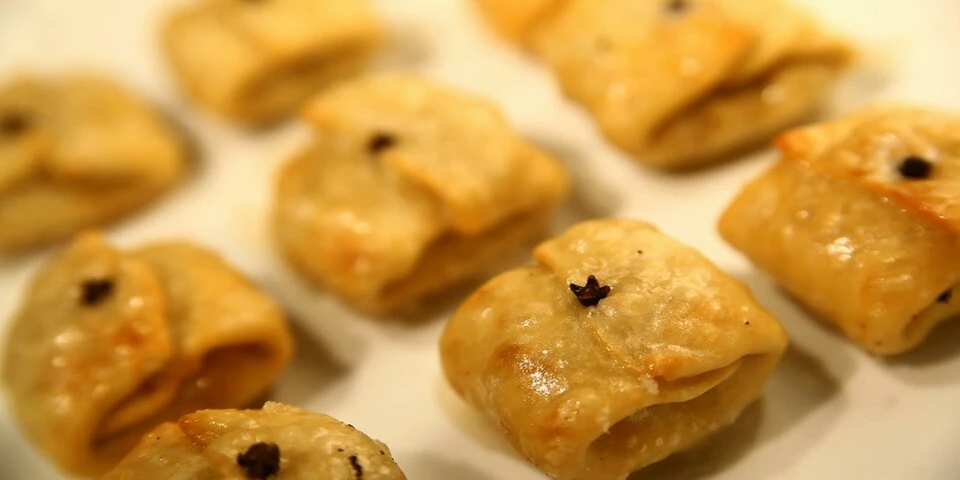 Another kind of sweet you get to taste on Varanasi streets is Launlata.
Mawa (milk solid), sugar, nuts, and laung (cloves) are stuffed into the dough, which is firstly fried and then soaked in chashni (sugar syrup).
Launglata is too-sweet in taste, so you can choose whether to go for it or not.
10. Thandai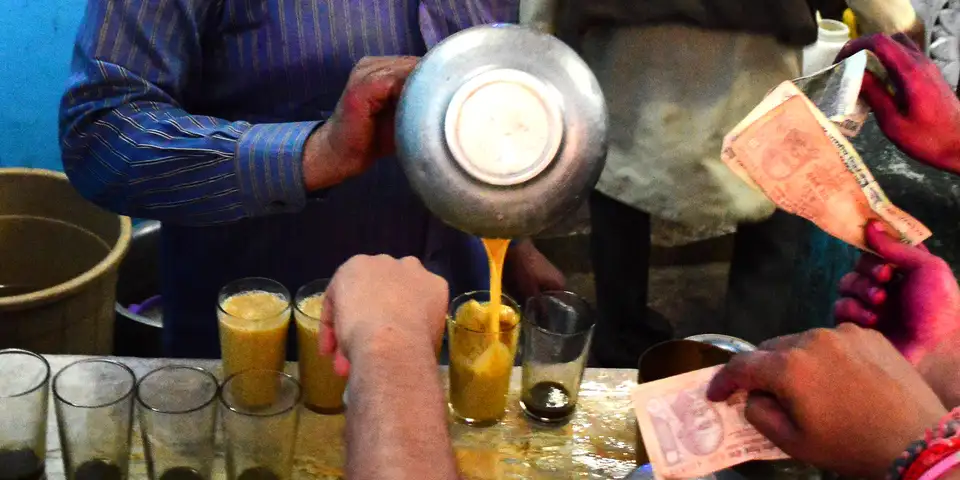 Thandai is made of milk and will have different tastes in different seasons of the year as the seasonal fruit keeps changing.
You will be given so many options, but the popular one is Kesariya Thandai.
Be it Kesariya thandai or any other kind of thandai, one thing in all of them will be same: Bhaang (mild marijuana).
The shopowner will first ask you whether to add bhaang or not. If you want to be light-headed, go for bhaang thandai, otherwise avoid it and go for the normal one.
11. Rabri-Jalebi
Rabri is chilled and thick condensed-milk.
Jalebi is made of refined wheat flour which is then fried in sugar syrup, called chashni.
The combination of this two separate delicacies is worth your money and calories you gain after tasting this dashing sweet.
No doubt why the combination is the famous street food in Varanasi.
12. Banarasi Paan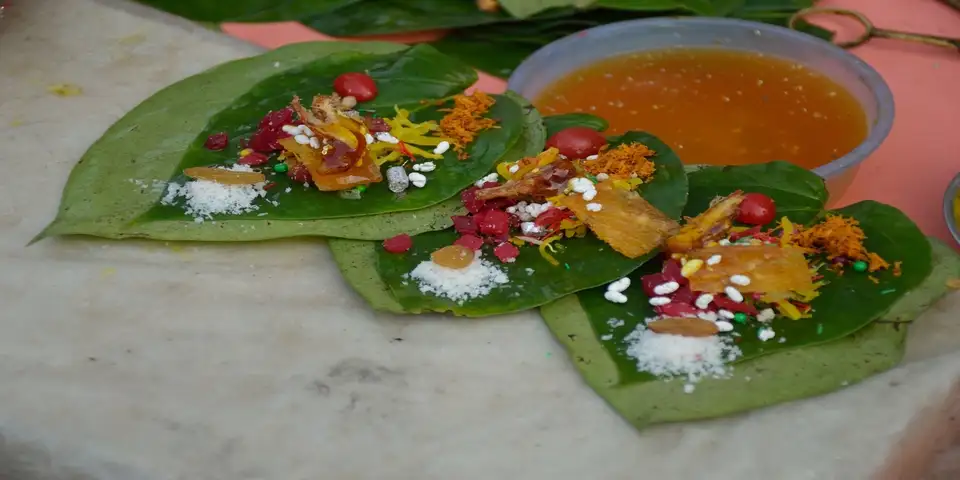 "Khaike paan banaras wala…" it is a song in one of Amitabh Bachhan's movie.
The point is that, if Banarasi Paan can make its place in a song, then it is hundred and one percent entitled to be in your mouth for at least once.
And we are telling you, you are going to ask for another once it starts its magic on your tongue.
Betel leaves are stuffed with clove, betel nuts, menthol, cardamon, fennel seeds, etc. and that is what makes a delicious Banarasi Paan – one of the best street food in Varanasi.
Also Read: Must try Food In Uttarakhand
13. Kulhad Chai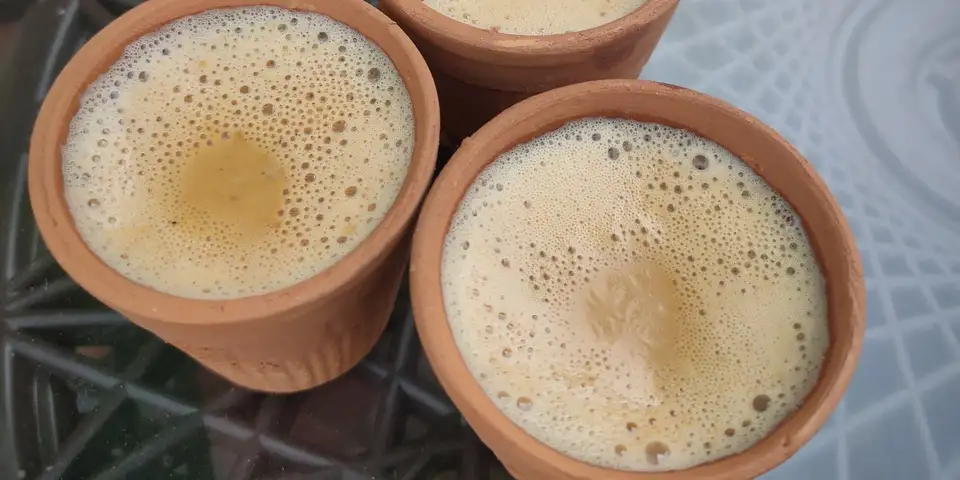 India is divided by state-borders, but united by chai (tea).
Wherever you go in India, you will find chai. So, when you are in Varanasi, why not to unite with other Indians by having a chai at any of nearby stalls.
Kulhad wali Chai has different taste than others as whenever you drink it, you taste and smell the aroma of Indian soil.
We can just say, go, get it!
Varanasi is one of the holiest places in Hinduism. Another is Rishikesh; read our Rishikesh Travel Guide to know more about it