Jaipur the Pink City. Have you ever thought of exploring the city of Jaipur differently? Not going to the regular places yet exploring something different. Shopping from the local markets, enjoy the chaats of Jaipur. Unusually visit Jaipur. Here we have listed down the best things to do in Jaipur which will elevate your experience in Jaipur. It is not only about tourist places but also shopping locations, amazing food joints and a lot more.
Jaipur is famous for the pink buildings and the history it holds, along with that there is much more to explore. Make your Jaipur trip worth exploring in different ways. Here is how you can do it.
1.1 Explore Jaipur On Your Feet:
You know what, you can feel the essence of any city when you explore it on your feet. Enjoy the narrow lanes, local people, handicrafts, walking down the street, sitting beside the water body, and enjoying the cold breeze. If you can set your itinerary then there is nothing better than that but if this is your first time then we suggest you take the Jaipur walking tour of the city. Every lane has a story and when you explore Jaipur on your feet you can feel it.
1.2 The Morning Bike Tour Is Blissful:
If you enjoy bike rides then take a tour of the Pink City on bike. Out of all Jaipur things to do you can consider the morning bike tour. Beat the heat in the morning and enjoy birds chirping, clear sky and fresh air while roaming in the city. Visit most famous tourist destinations, the morning nashta or breakfast, lip-smacking kachori and alu ki sabji is a must try.
1.3 The Food Walk Is A Must For Foodies:
The food walks will let you know about the famous eateries in Jaipur and taste some delicious foods during the tour. You can know more about it from the Trocals tour executive. If you are a foodie then we must suggest you take the Jaipur Street Food Tour. You will discover different tastes and food items that are not common.
1.4 You cannot miss these places in Jaipur
1.4.1 Nahargarh Fort:
One of the most elegant forts in Jaipur Situated at the edge of Aravalli hills. It was built in the year 1734 by Maharaja Sawai Jai Singh II. The fort was previously known as Sudarshangarh Fort and then the name changed to Nahargarh Fort because of a local belief the spirit of a prince named Nahar Singh Bhomia used to disturb the construction of the fort. The fort is open for visitors from Monday to Sunday from 10:00 and to 5:30 pm.
1.4.2 Ambar Fort: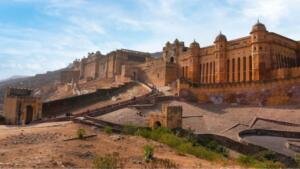 One of the most popular things to see in Jaipur. It is also known as Amer Fort. If you love exploring historical monuments and architecture then you must visit this place. This fort does not only hold a rich history but heritage architecture. Apart from the external beauty of this fort it also has an underground tunnel that connects to Jaigarh fort. You can visit the fort from 8:00 am to 5:30 pm any day. 
Read:  Street Food in Jaipur
1.4.3 Sheesh Mahal: 
Sheesh Mahal or the palace of mirrors. One of the most magnificent destinations you can visit. The mirror work in that era showcases the fine artwork and royal style of design. On your visit to Amer Fort, you can witness this royal structure.
1.4.4 Hawal Mahal: 
While roaming around the city you can witness this beauty a lot of time. The honeycomb structure and 953 small windows make it stand out. 
1.4.5 Jaigarh Fort: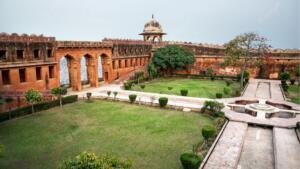 A fort that was built to protect Amer Fort. You can see the city of Jaipur and beyond from the fort because of its 500ft height above sea level. It is open every day for visitors from 9:00 am to 4:30 pm. 
1.5 Experiences to Enjoy in Jaipur
1.5.1 Elefriend: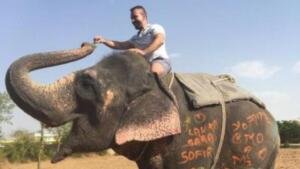 Enjoy a day with elephants, feed them, and paint them with colours in the elephant village of Jaipur. If you love jungles and animals then this place is for you. 
1.5.2 Block Print Class: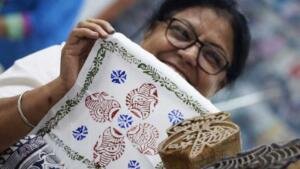 Block printing on fabric is one of the heritage art of Rajasthan and you can learn that from small workshops. Go Beyond the regular things to do in Jaipur and enjoy the art and culture.
1.5.3 Lean to Make Pichwai Painting: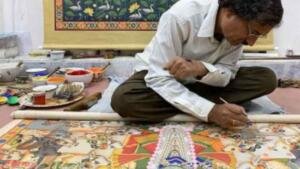 Pichwai art is something that is devoted to Lord Krishna. Artisans paint things related to Sri Krishna on a large fabric which is used in the temple. You can learn it too from a workshop and understand the Jaipur art handcraft.
1.6 Food Joints You Must Visit
1.6.1 Rawat Mishthan Bhandar's Pyaaz Kachori:
For all the chatore people it is a must to visit Rawat Mishthan Bhandar for their famous Pyaar Kachori.
Planning to explore Jaipur, contact us for best experience.
1.6.2 The Best Masala Chai at Gulab Ji Chaiwala:
In every part of the world you will find chai lovers. Gulab Ji Chaiwala serves the best masala chai you will ever have in your life.
1.6.3 Dal Bati at Santosh Bhojnalaya

: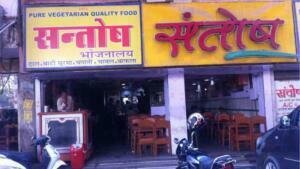 Enjoy the authentic Rajasthani delicacy Dal Bati at the Santosh Bhojnalaya. 
1.6.4 Dal Ki Kachori at Laxmi Mishthan Bhandar:
Another place to enjoy delicious dal kachori is Laxmi Mishthan Bhandar.
1.7 Shopping Destinations In Jaipur That You Cannot Miss
For all shopaholics, we have some amazing recommendations real quick. Get the beautiful Jaipuri Bangles enggfrom Tripolia Bazar, Juttis from Nehru Bazar, Blue pottery items from Kripal Kumbh, and Local Pottery Items from Mirza Ismail Road, explore Sireh Deori Bazar to do some street shopping.
Conclusion
Jaipur is a city full of colours, history, heritage and culture. Explore the city in your way. There are a lot of things to do in Jaipur that will unfold once you begin to plan your itinerary. It's time to enjoy exploring Jaipur, get started with the planning today.