Along with Agra and Delhi, Jaipur forms the 'Golden Triangle' – the most popular itinerary in India. Nicknamed 'Pink City', Jaipur chose this color as it denotes hospitality.
As you go through this Jaipur travel guide, you will find the hidden gems of Jaipur. You have heard of the royalty of Rajasthan, don't you think the best way to experience it is to visit the capital of Rajasthan?
Here you will find the architecture boasting about the glorious past of the city and the nation, busy markets selling mementos, and cooks putting all their energy into making the best Rajasthani food.
Have you ever asked your eyes what they love to see? Fulfill their dream by taking a visiting destination to Jaipur.
But before that, thoroughly read this Jaipur travel guide to know all about the Pink City.
Here's what is covered in this Jaipur travel guide:
How to Reach Jaipur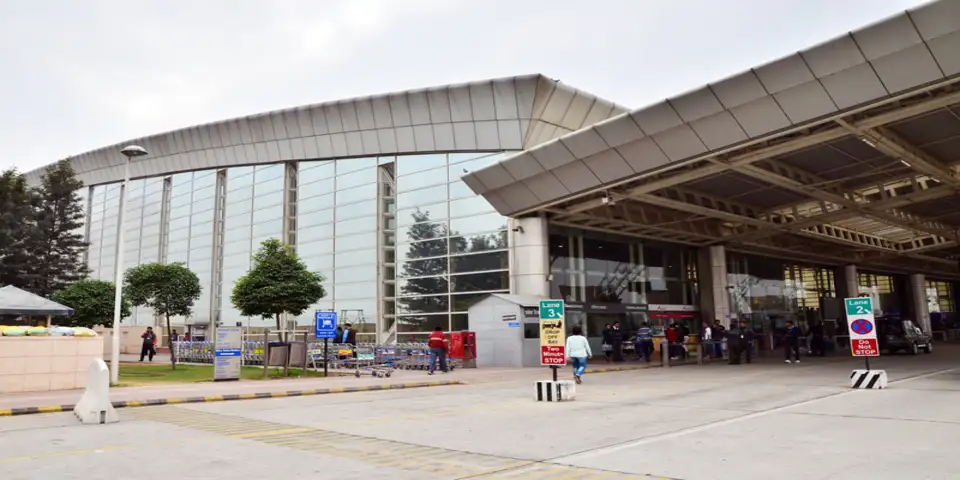 Located 13 km away from the center of Jaipur, is the Jaipur International Airport (JAI) also known as Sanganer Airport as the airport is in the southern suburb of Sanganer city.
You can get here from the major cities like Delhi, Bangalore, Chennai, Mumbai, etc. on the regular flights offered by the carriers like Air India, Go Air, Spice Jet, Indigo, Air Asia India, and Jet Airways.
Air Arabia, Air-India Express, Etihad Airways, and Oman Air are some international airlines that take you from Sharjah, Dubai, Abu Dhabi, and Muscat to Jaipur.
Take a taxi or a cab from the airport to your destination and it will not charge you much as the city is not very far.
By Rail: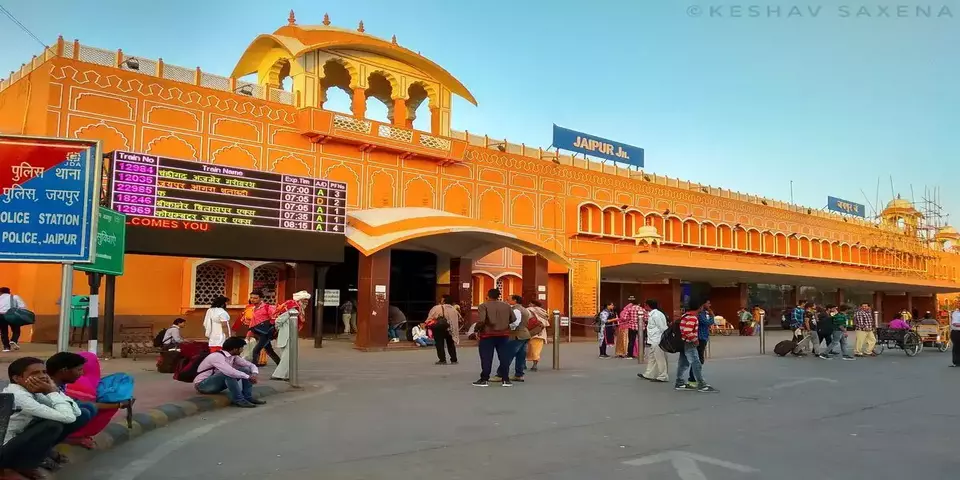 Jaipur has a railway station called the 'Jaipur Junction (JP)' which is 3 km away from the city and connects it to the other major Indian cities including but not limited to, Kolkata, Hyderabad, Delhi, Mumbai, Bangalore, Ludhiana, Bhopal, Lucknow, Chennai, Patna, Ahmedabad, Jodhpur, and Goa.
If you want to explore the richness of the Indian railway then you can reserve your seat on one of the most luxurious trains: Palace on Wheels.
And if not then Kathgodam Ranikhet Express and Ajmer Shatabdi are for you. Both these and the Palace on Wheels run between Delhi and Jaipur.
By Road:
Rajasthan State Road Transport Corporation (RSRTC) gives bus services between Jaipur and neighboring cities. Traveling to Jaipur by road is considered one of the easiest ways.
The distances between Jaipur and other major cities are following:
New Delhi: 250 km
Agra: 225 km
Gwalior: 330 km
Orchha: 470 km
Udaipur (en route to Ajmer): 400 km
Jaisalmer (en route to Jodhpur): 600 km
Bikaner: 330 km
Amritsar: 650 km
Sightseeing in Jaipur
The forts and palaces attract tourists to Rajasthan and particularly to the Pink City. And here we are going to elaborate on them.
Let's take a short tour of the various palaces of Jaipur.
City Palace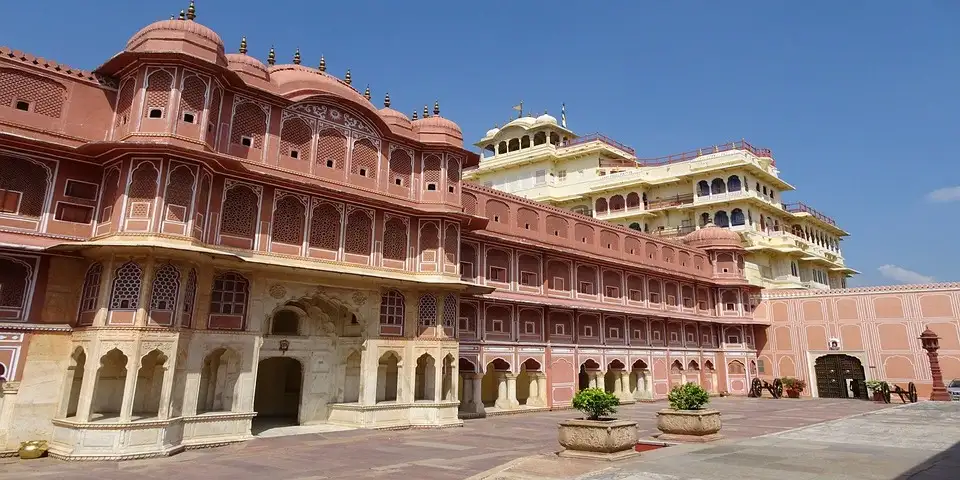 Initially built as a reception hall, City Palace has seen the most prestigious and opulent ceremonies and marriages.
But this palace has also been the most important part of the history of Rajasthan.
City Palace is built with the mixed architecture of Mughals and Rajasthan, and you will find glimpses of European architecture too.
If you are in Jaipur and have not visited this magnificent palace, you are missing so much.
Hawa Mahal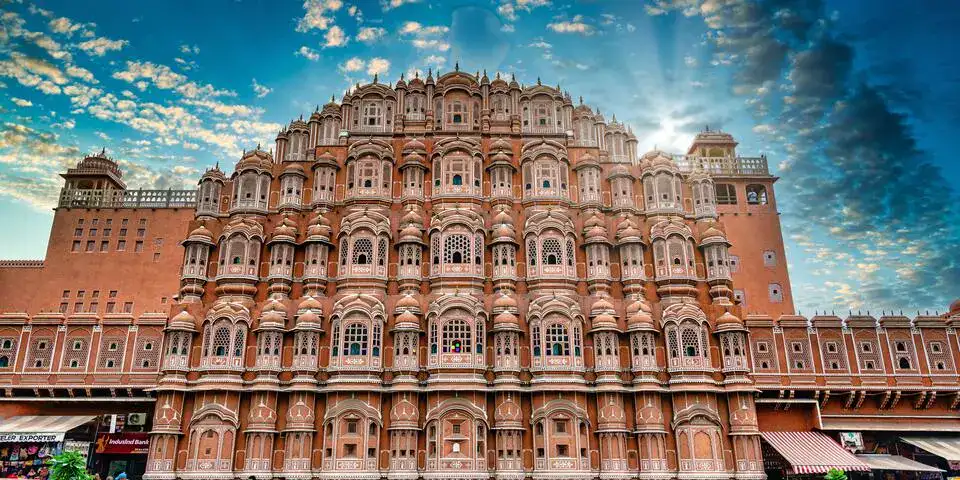 Hawa Mahal is a part of the City Palace. This is also a palace which is built with red and pink sandstones.
This architecture is famous all around the world as a 'Palace of Winds,' the exterior of which looks like a honeycomb and has 953 small windows.
Hawa Mahal is sitting on the edge of the City Palace and is considered the heart of Jaipur city.
Jantar Mantar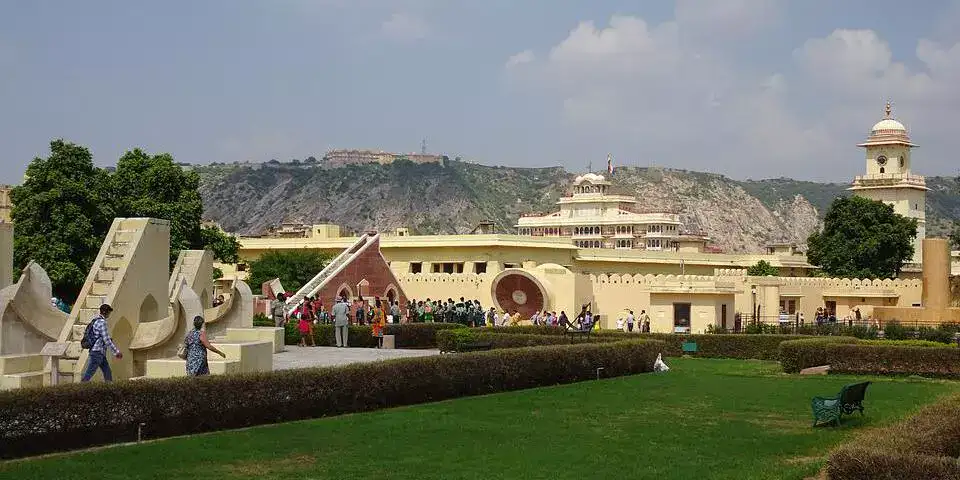 Home to the largest stone sundial in the world, Jantar Mantar is a UNESCO World Heritage Site.
Other than the stone sundial, it has 18 other astronomical instruments, all of which were built in the early 1700s.
Maharaja Jai Singh created the Jantar Mantar in Jaipur and he also created 4 other identical structures with the same name in different cities of North India.
Amber Fort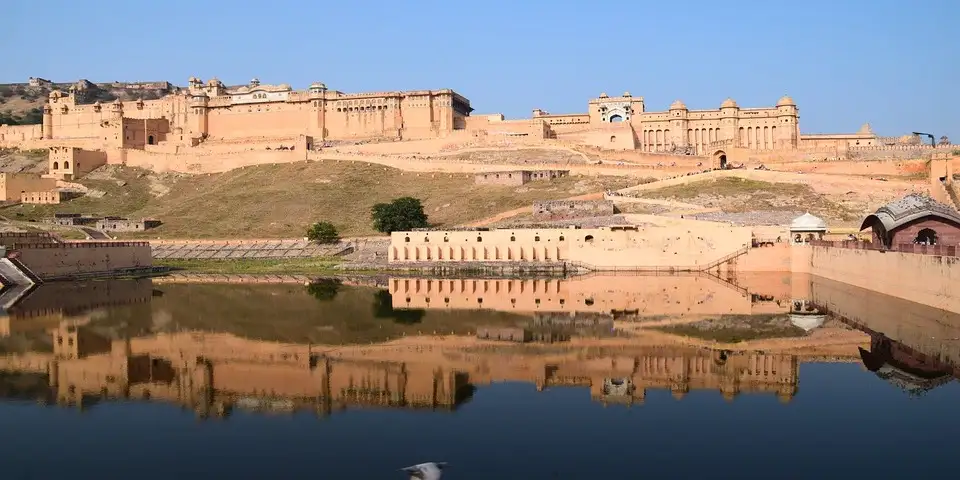 One of the prime tourist attractions in Jaipur is Amber Fort. Also known as Amer Fort, the palace is another UNESCO World Heritage Site.
Amber Fort is located in the Amber village and on the Aravalli hills. Influenced by both Mughal and Rajput architecture, the fort has a unique charm that you should not miss to take sight.
A walking tour of the Amber Fort is also an option, but the Elephant Safaris and Jeep Safaris show you the most of it.
Jal Mahal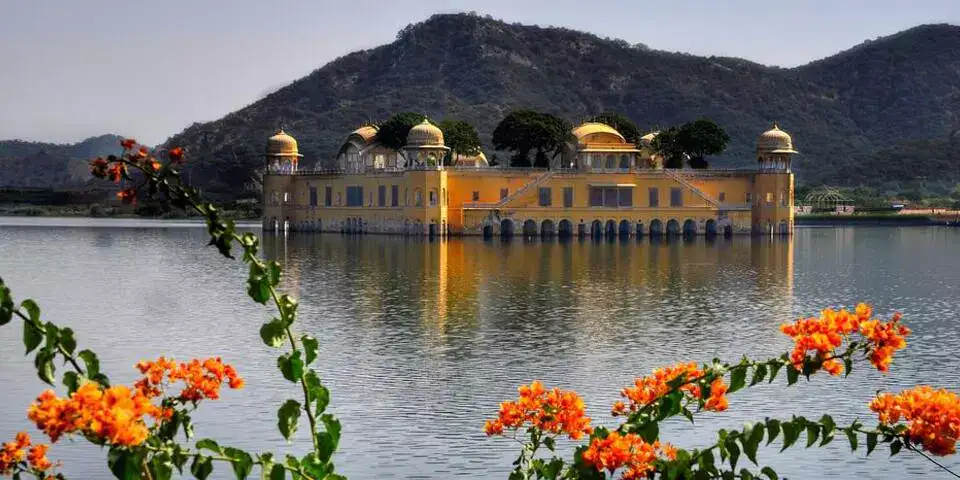 Amidst Man Sagar Lake and with the backdrop of vegetative Aravalli Hills, situated Jal Mahal or Water Palace.
Many people think that it is floating over the surface of the lake, but the fact is that Jal Mahal's four storeys are submerged.
The Water Palace was built by Maharaja Jai Singh II. You can easily get a view of the palace from the Nahargarh Fort.
Nahargarh Fort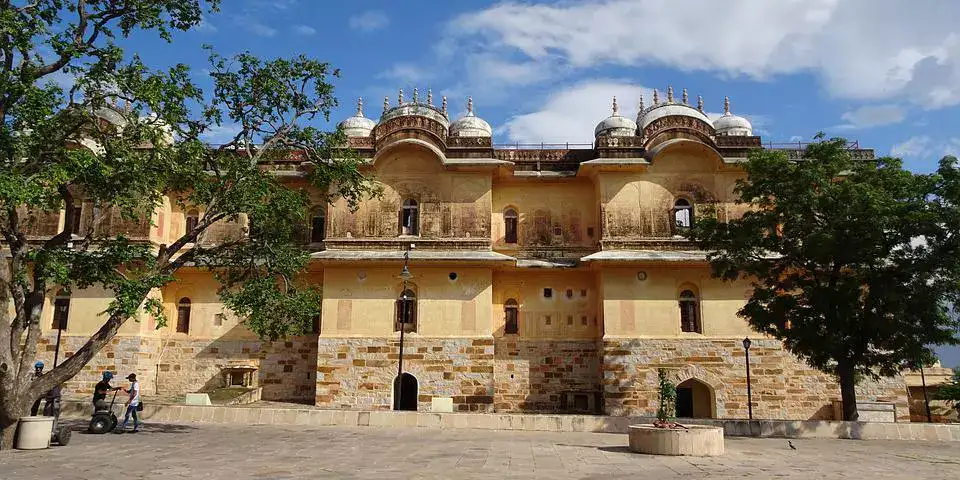 Another wonder of the Maharaja Jai Singh II is Nahargarh Fort, translated 'Tiger Fort,' which was built on the brink of the Aravalli hills to protect the city from the enemies.
Maharajas of Jaipur would also use it as their hunting residence. You will be astonished to see the scenic views of the Pink City from the Nahargarh Fort.
Jaigarh Fort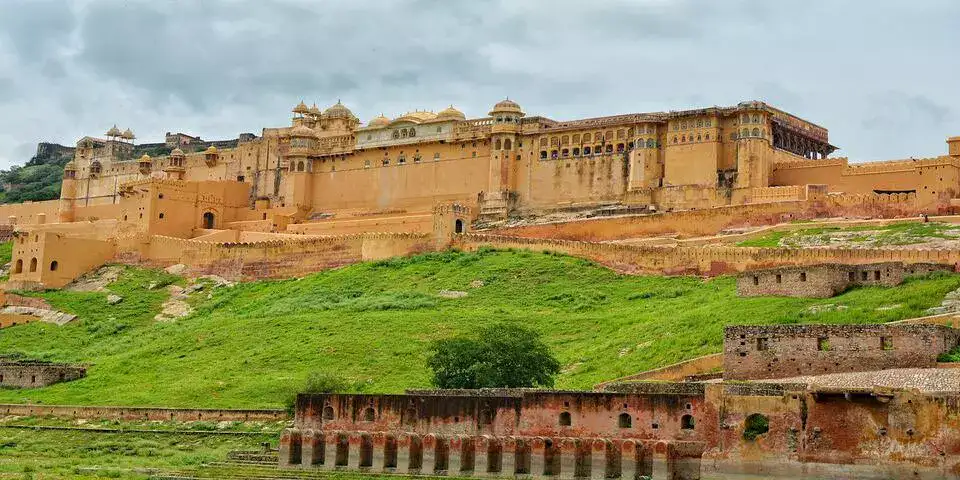 Translated to 'Fort of Victory,' Jaigarh Fort was built to toughen the security of royal families and that's the reason you will get to see numerous watchtowers built on the outer walls of the fort.
You will be able to see Maota Lake and Amber Fort from here and Jaigarh Fort is also connected to the Nahargarh Fort.
Albert Hall Museum
The oldest and also the state museum of Rajasthan is Albert Hall Museum. The museum is nicknamed as 'Government Central Museum.'
The architecture is built in Mughal and Venetian styles and is home to a wide variety of objects, including paintings, jewelry, rugs, and pieces of artwork made of crystal, ivory, stone, and metal.
Coins from the Gupta, Kushan, Delhi Sultanate, Mughal, and British eras are included in the collection. The centerpiece of this museum is an Egyptian mummy.
Where to Stay in Jaipur
Being one of the popular tourist spots in India, Jaipur is completely accustomed to the requirements of travelers and the first thing they want is a hotel to stay in.
The city has a plethora of hotels ranging from luxurious to cheap ones. It's up to you, what your budget is.
We do not personally advise you to stay at very cheap hotels as you don't get proper services there, but you can also easily find mid-range hotels.
The opulent hotels in Jaipur include The Oberoi Rajvilas, The Leela Palace Jaipur, Rambagh Palace, The Raj Palace, The Jai Mahal Palace, etc.
Usually, budget travelers look for hotels that could cost them around a thousand rupees and these kinds of hotels are Rani Mahal, Hotel Arco Palace, Hotel Magenta, etc.
What and Where to Eat in Jaipur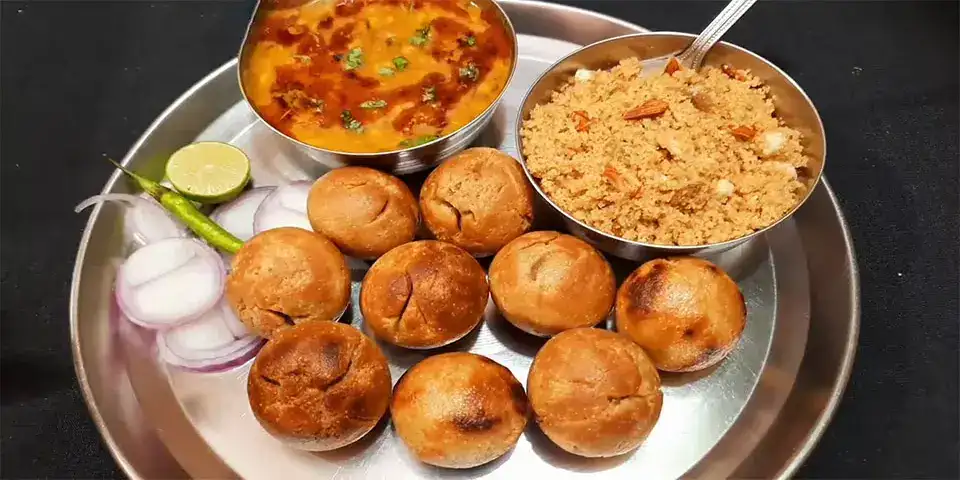 Rajasthan is not just royal because of its forts and palaces, but also of its food. The aromatic Rajasthani cuisine is everything you need after a ride to the city.
As the main meal take Dal, Baati, and Churma which is nothing but pulses served with sauces and baked rolls of flour. But save a room for Rajasthani dessert, Ghevar, which is commonly found on the streets food of Jaipur.
Non-vegetarians can go for 'laal maas,' which is red meat fried with the regional spices, considered the most famous meal of non-vegetarians in the city.
As a snack, go for Mawa Kachori.
Jaipur's best restaurants include Preet Mahal and Mohan Mahal on Delhi-Jaipur Highway, Suvarna Mahal on Bhawani Singh Road, Rambagh, etc.
Where to Go For Shopping in Jaipur
You have known Jaipur only as a photographer's paradise, but you will be surprised after reading this segment when you get to know that the Pink City is not just about sightseeing, it is also a place for the shop-maniacs.
We have listed some of the most popular markets or bazaars here to save you from trudge.
Take a walking tour of Jaipur with our expert guides and immerse yourself in the city's vibrant culture and rich history.
Johri Bazaar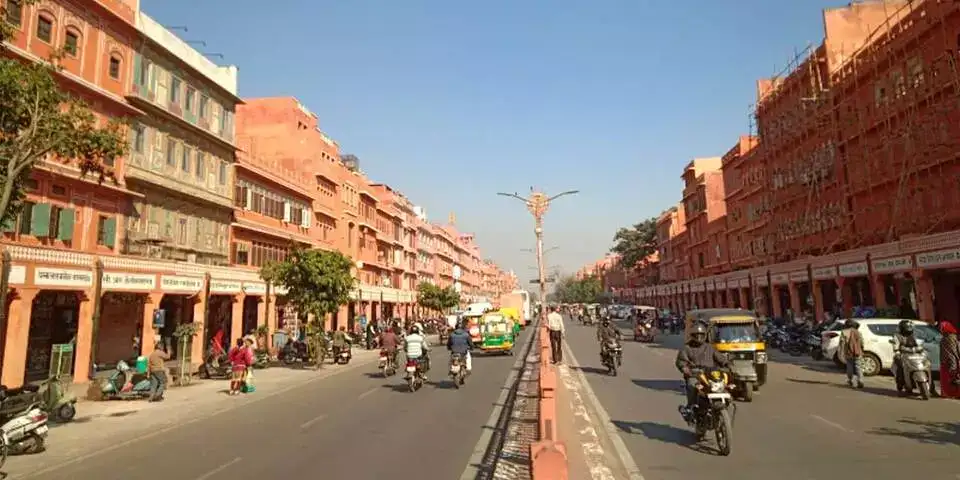 The largest marketplace in Jaipur city, Johri Bazaar translates to Jeweler's Market.
And the reason behind this nomenclature is that you will find a plethora of jewels here including gems, and precious and semi-precious stones.
Other than jewelry, you also see a variety of things to buy and this is what makes the Johri Bazaar the 'shopper's delight.'
Bapu Bazaar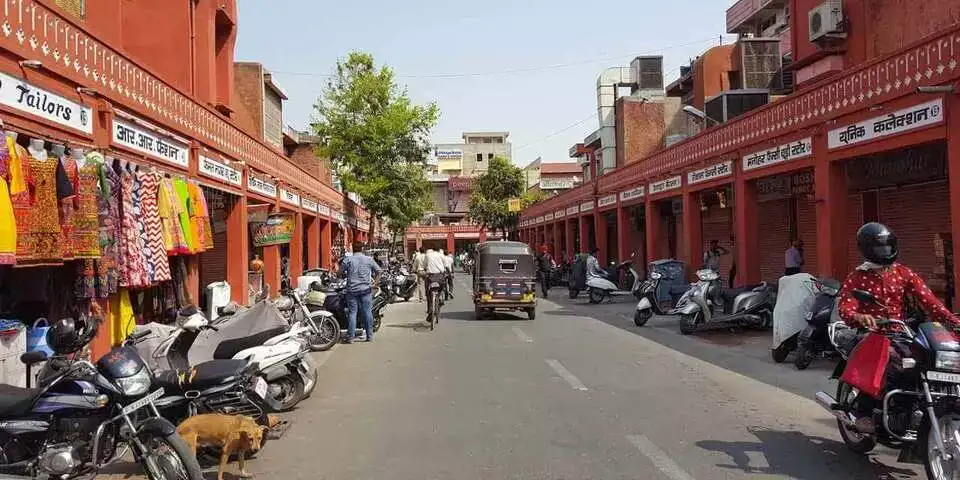 Bapu Bazaar has its own specialty and that is goods made of camel leather. Here you find the best leather works all over Jaipur.
Lampshades, bags, belts, and wallets are some of the examples, but why people come here to shop is because of Mojri, traditional leather shoes. Don't forget to buy a pair for you and your friends and family.
Bapu Bazaar's products are worth your money.
Tripolia Bazaar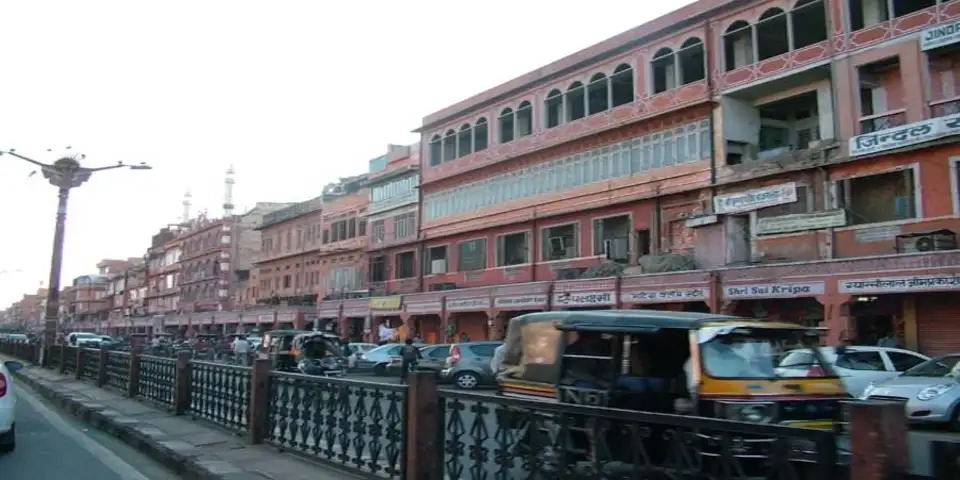 Tripolia Bazaar is one of the oldest and busiest markets in Jaipur and is popular among tourists and locals for its lac and other varieties of bangles.
Other products to buy here are textiles, bandini ties, brassware, designer carpets, and other traditional wear.
Chandpole Bazaar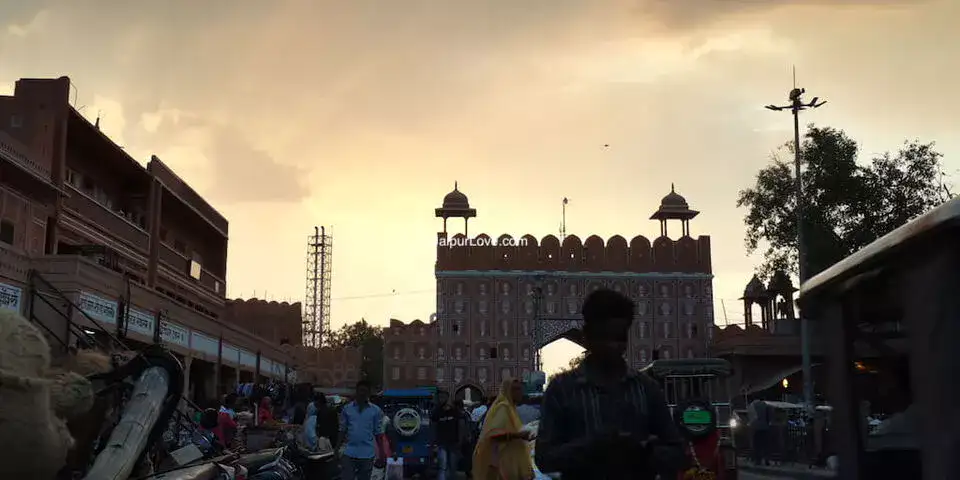 Known for its marble statues, Chandpole Bazaar is Jaipur's one of traditional bazaars.
But, Chandpole is not confined to just marble sculptures, other than them here you also get to see traditional shoes, carpets, turbans, pretty handicrafts, and perfect sculptures made of wood and stones.
Nehru Bazaar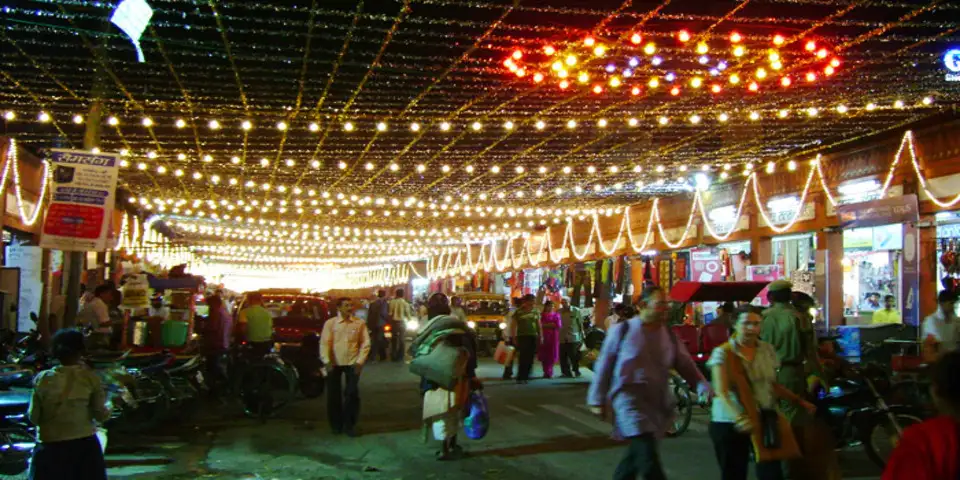 Every market in Jaipur is famous for something particular, following this custom Nehru Bazaar draws shoppers to its Juttis, traditional shoes worn by North Indians.
Surely you will have to bargain with the shopkeeper, but it's worth it. Other things for you to bargain in Nehru Bazaar are clothes and textiles.
Festivals and Events in Jaipur
It is cliche to say every time that India is a land of festivals and culture. Heritage is everything for India, and India is everything about heritage.
So, let's discuss some of the most popular events and festivals of Jaipur city.
Kite Festival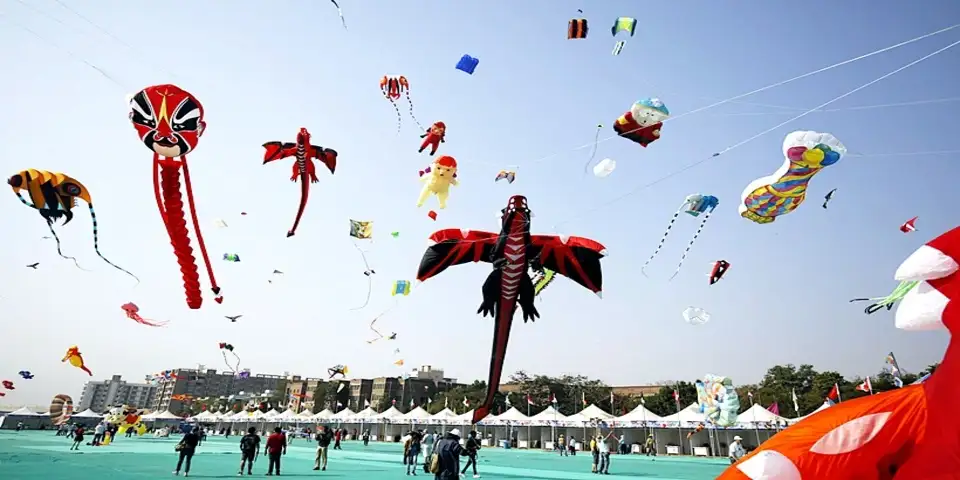 Every year on January 14, Jaipur has a kite festival. During this Jaipur celebration, a large number of kites are flying in the sky.
The sky is ablaze with millions of kites as twilight sets. Fireworks and lamps illuminate the entire city.
Jaipur has designated this day as a holiday to honor kite flyers from all over the globe.
Also Read: 11 Best Places To Visit in Jaipur in Winter
Teej Festival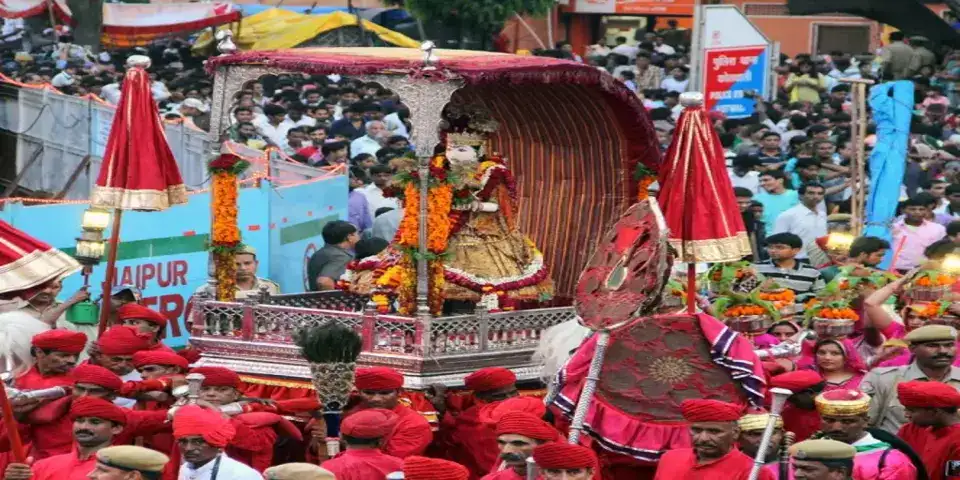 Women commemorate the religious significance of the Teej Festival. On this day, several rituals are performed to improve marriage relationships.
For the benefit of their future husbands or wives, even the girls are joyful. On this day, traditional "Teej Mata" songs honoring the goddess are sung.
Elephant Festival
The Elephant Festival, which takes place in Jaipur during the months of February and March, is a significant annual event.
The festival's main attractions are elephant dancing and elephant polo. Beautiful elephants have paraded around in exquisite outfits, anklets, and decorated saddle cloth.
The elephants' heads are often used to toss "gulaal," a colorful disc.
Jaipur Literature Festival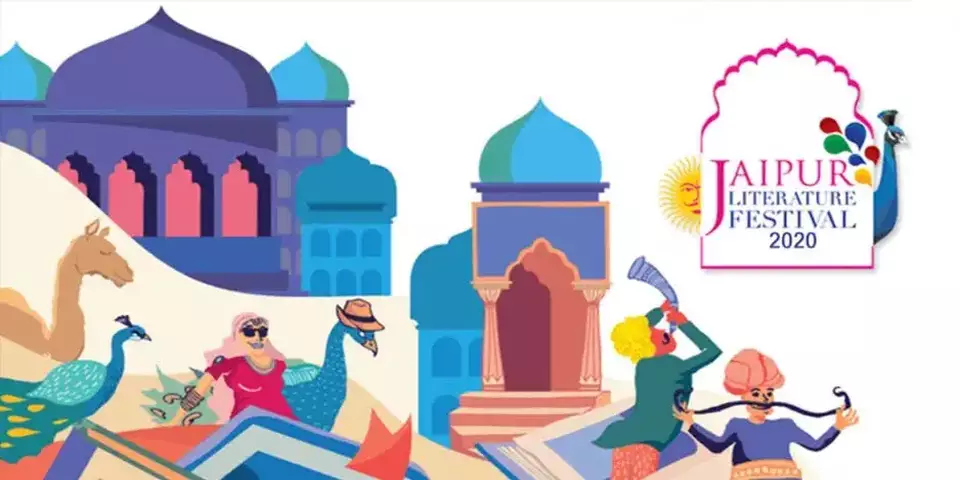 The Jaipur Literature Festival is a five-day event that draws thousands of attendees from across national and international borders. It is the largest literary festival hosted in the Asia Pacific region.
This ceremony usually takes place in January each year. Both domestic and foreign authors are included in reading and debate sessions.
Gangaur Festival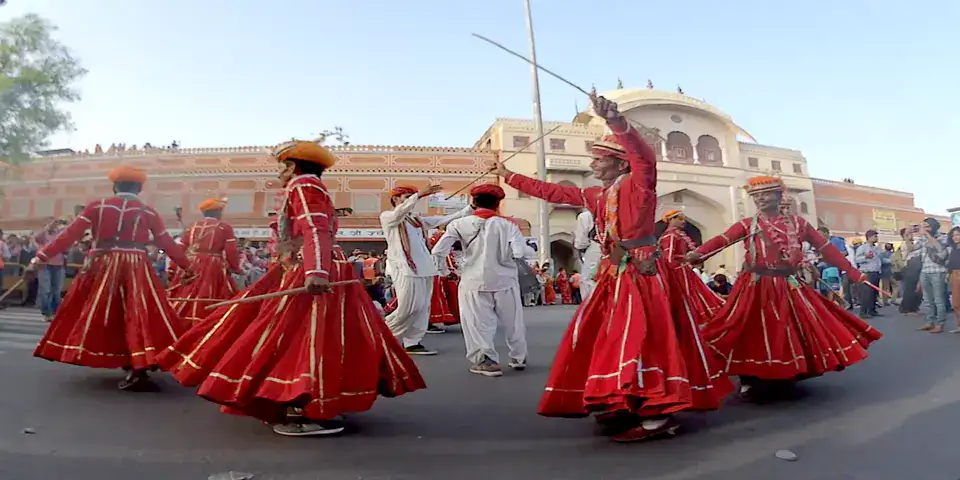 One festival that the Rajasthanis take pleasure in is the Gangaur fair. It is apparent in the early days of spring. Marriage is improved by this holiday.
Husbands and wives both say a prayer for the well-being of the other. Husbands also spend time with their spouses. They both adore Mata Parvati (wife of Lord Shiva) and Lord Shiva's clay statues.
Are you on the Golden Circuit? Read the Agra travel guide to make the most out of it