India and its diversity is something that we can discuss day and night. But you can observe that these discussions are more often than not centered around big cities and their grandeur.
Think for a moment, is India just it? 
Sometimes things that we cannot see are the ones that are the epitome of beauty. And India is a beauty in itself, but it is also the fact that real India is the villages of India.
When we talk about villages, we think of greenery, nature, and the abundance of the hidden creations of the almighty. So, if it is greenery and if it is nature, then why not know about the people who live in the lap of mother nature 24×7?
Yes, we are talking about tribals. India is fortunate to have around 645 distinct tribes, but unfortunately, we cannot discuss them all.
Here you will get to know about 14 major tribes in India. So, are you ready to see the different colors of Indian culture and diversity?
If yes, then let's first have a look over the list of different tribes in India and then we will go into details one by one.
1. Gond Tribe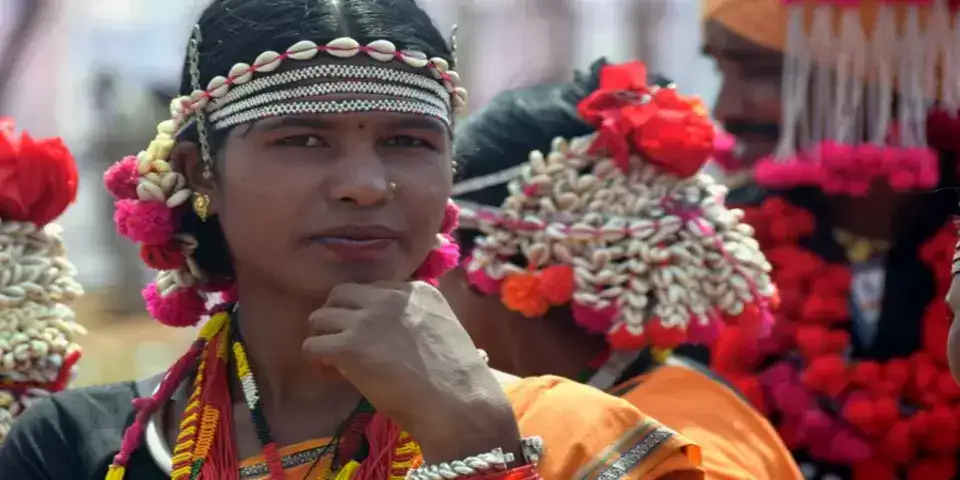 One of the biggest tribal groupings in the globe, the Gonds, think that Gods govern the land, the river, and the air.
Gonds Tribe is subdivided into four tribes: Madia Gonds, Raj Gonds, Dhurve Gonds, and Khatulwar Gonds.
Where to meet Gond Tribes in India:
Chhindwara district of Madhya Pradesh
Bastar district of Chhattisgarh
Parts of Maharashtra, Andhra Pradesh, Gujarat, Jharkhand, Karnataka, Telangana, Uttar Pradesh, West Bengal, and Odisha
2. Bhil Tribe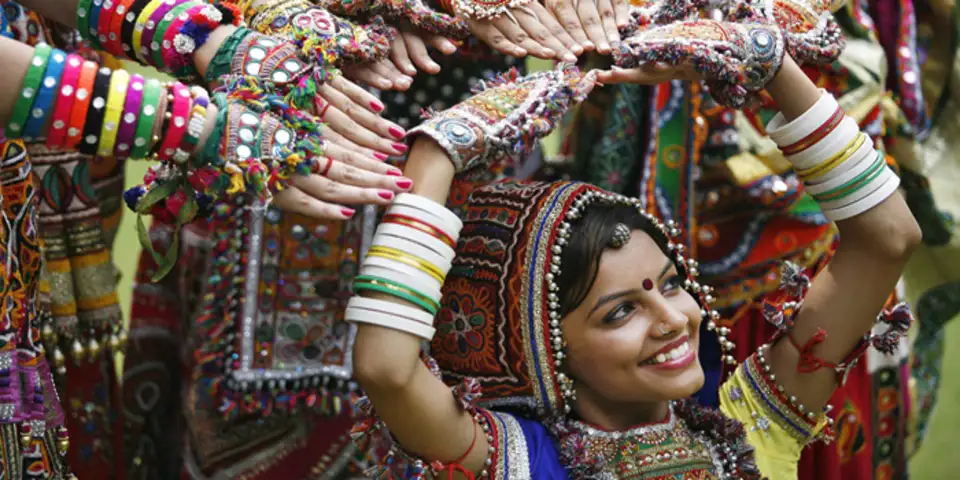 Bhil tribes in India are one of the largest tribal groups. The word 'bhil' is derived from 'bilu' which means 'bow.' 
The Bhil are well-known for their skill with an archery bow and are masters of guerilla warfare.
Where to meet Bhil Tribes in India:
Madhya Pradesh
Chhattisgarh
Gujrat
Karnataka
Maharashtra
Andhra Pradesh
Rajasthan 
Read: Things to do in Ladakh
3. Santhal Tribe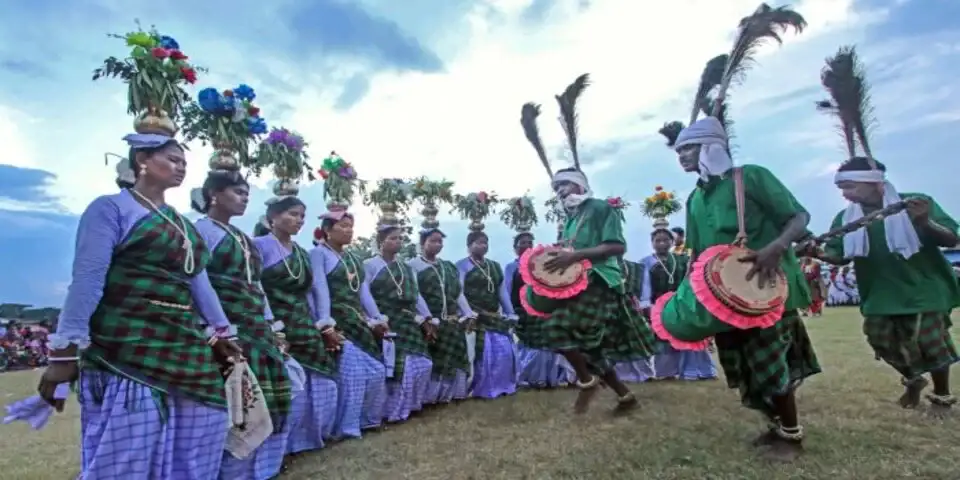 Santhals are the largest and one of the ancient tribes in India. They are counted as the major tribes in West Bengal.
Santhal tribe is self-taught about the art of hunting and is mainly dependent on livestock and agriculture.
Where to meet Santhal tribes in India:
Bankura and Purulia districts of West Bengal
Parts of Assam, Bihar, Chhattisgarh, Jharkhand, Odisha
4. Garo Tribe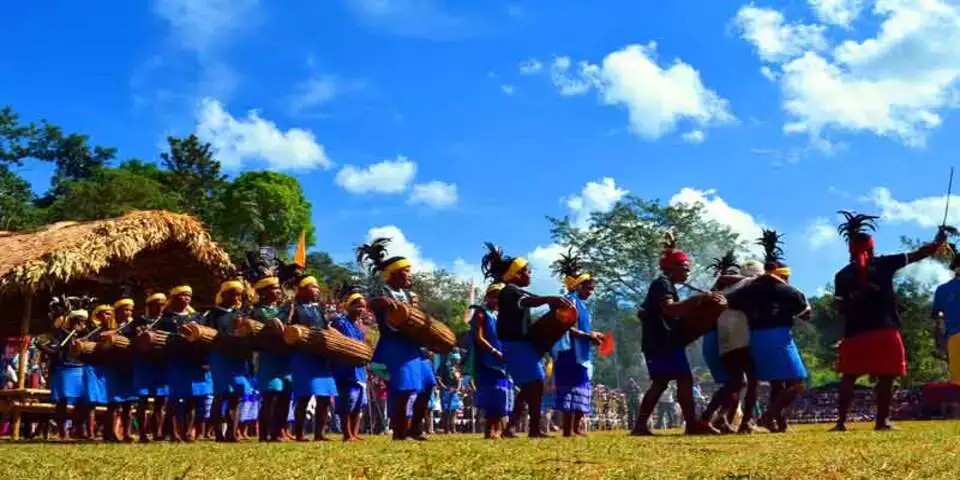 The Garo Tribes, one of the few matrilineal civilizations still in existence and mostly found in the Meghalayan hills, are renowned for their vibrant way of life.
The other Meghalayan tribes may be recognized as the Garo tribes. Women are commonly spotted wearing a range of traditional jewelry, while men are usually seen sporting turbans with feathers tucked behind them.
Where to meet Garo tribes in India:
In the hills of Meghalaya
Parts of Assam, West Bengal, and Nagaland
5. Khasi Tribe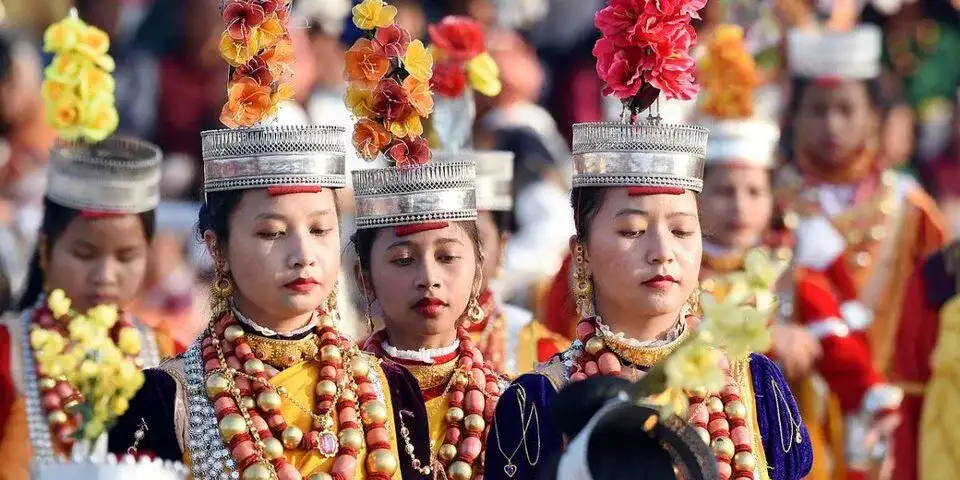 The Khasi are an ethnic group native to Meghalaya in northeastern India, and they have a sizable presence in Assam, which is a neighboring state.
Khasis are the majority of people living in Meghalaya's eastern portion, often known as the Khasi Hills.
The matrilineal system is an element of the culture of the Khasi people.
Where to meet Khasi tribes in India:
Khasi Hills of Meghalaya
Parts of Assam, Arunachal Pradesh, Manipur, and West Bengal.
6. Banjara Tribe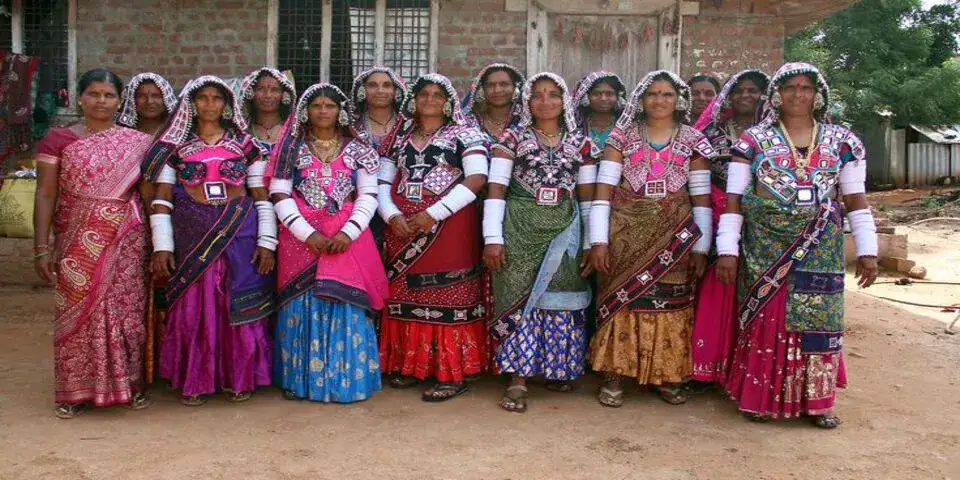 Banjaras are one of the nomadic tribes in India, who are also known as Labana and Lambadi. 
Lambadi is also the language that the Banjara tribe speaks. The tribe originated from the 'Mewar' region.
Where to find Banjara tribes in India:
In all Indian states except North-Eastern states and Union territories.
7. Bodo Tribe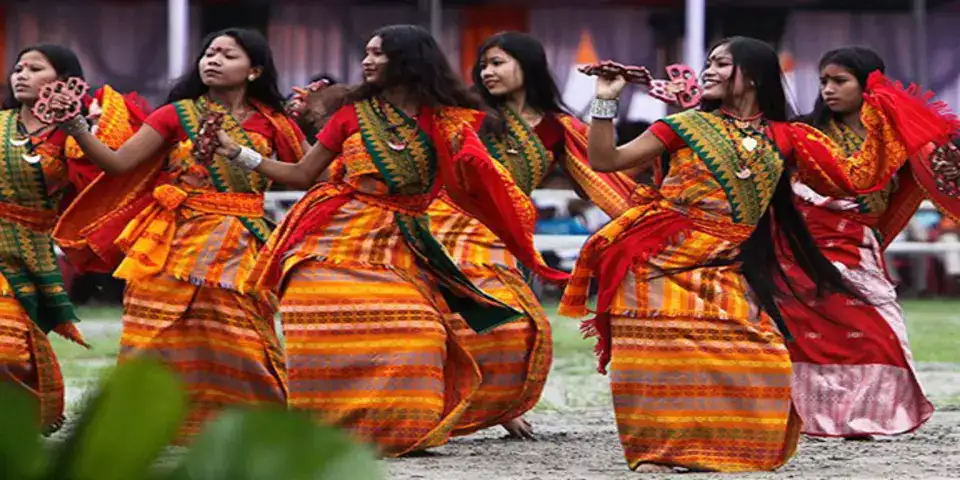 Bodo tribe is the largest ethnolinguistic group in Assam and is considered the early settlers of Assam.
They are meat-eating people and the most important part of their culture is weaving.
Where to meet Bodo tribes in India:
Udalguri and Kokrajhar districts of Assam
Parts of Nagaland and West Bengal
Read:  Lakes in India
8. Oraon Tribe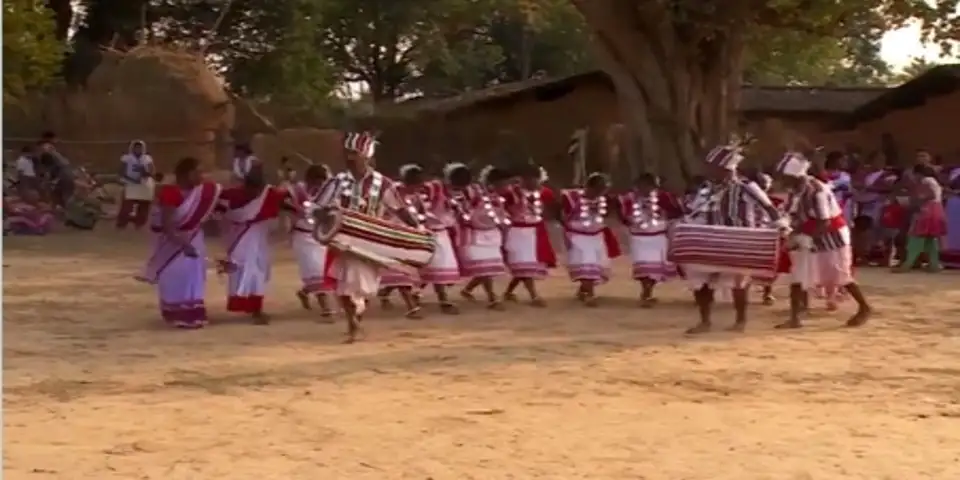 The Kurukh language is the primary language of the Dravidian ethnic group known as the Oraon, Kurukh, or Dhangar.
For ceremonial and economic purposes, the Oraons once relied on the forest and farms, but more recently, they have mostly settled as farmers.
Where to meet Oraon tribes in India:
Jharkhand
West Bengal
Chhattisgarh
Odisha
9. Great Andamanese Tribe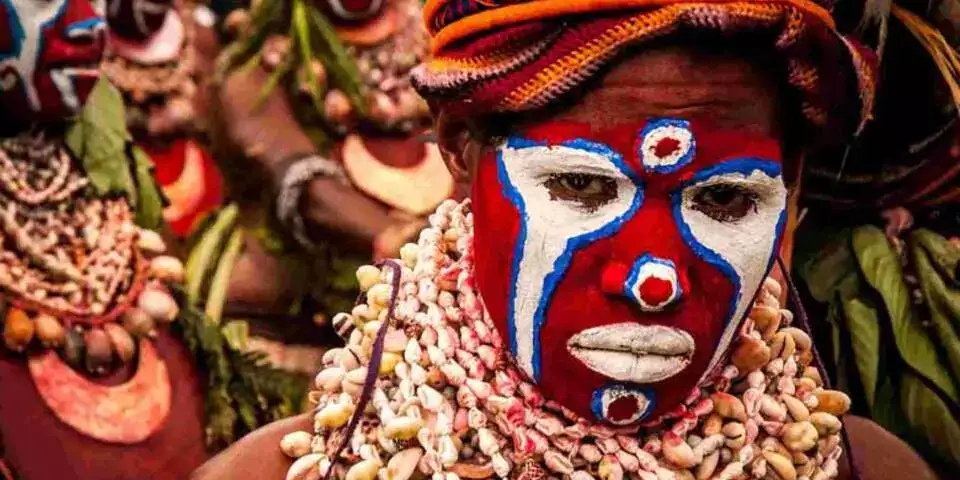 The Great Andamanese Tribe's Onge, Jarawa, Jangil, and Sentinelese tribes are said to have been the initial inhabitants of the islands.
However, a large fraction is currently in peril of being extinct, and the continuing population of the Great Andamanese tribe is largely dependent on the ongoing campaigns of Indian and survival organizations.
Where to meet Great Andamanese tribes in India:
10. Bhutia Tribe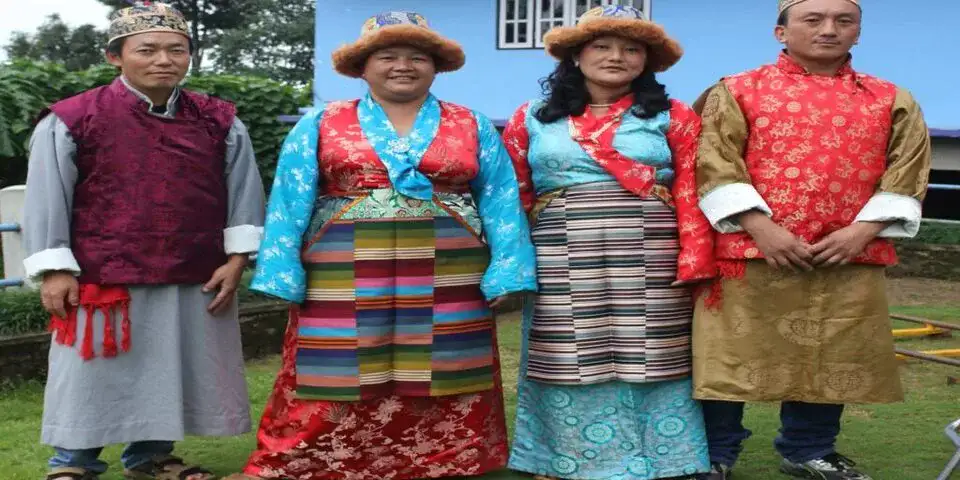 Bhutias are a Sikkimese ethnic group who live in the northern Indian state of Sikkim and speak Drenjongke or Sikkimese.
People of Tibetan heritage are referred to as "Bhutia." The Bhutia tribe is divided into various clans, and unions within the clan are preferred over couplings outside of it.
Where to meet Bhutia tribes in India: 
All over the state of Sikkim
Kalimpong and Darjeeling districts of West Bengal
Parts of Himachal Pradesh and Uttarakhand
11. Munda Tribe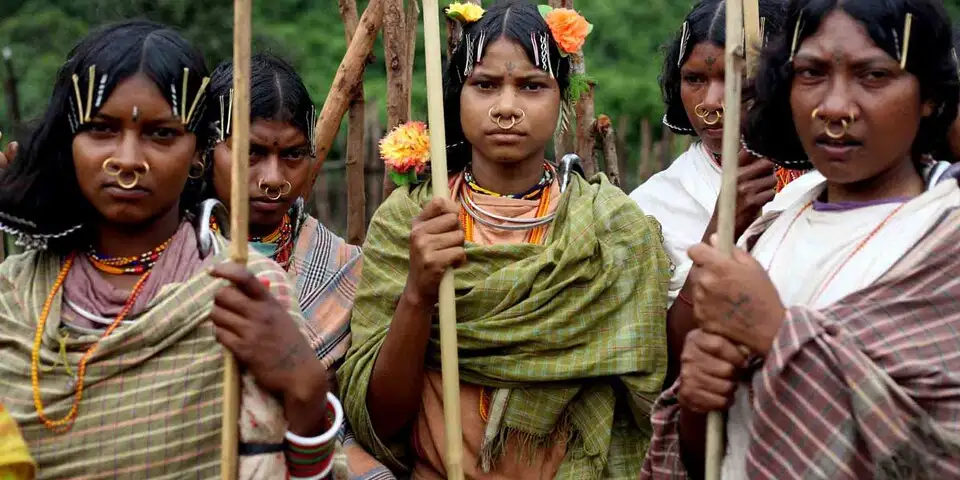 One of India's largest scheduled tribes is the Munda. The Munda people are also known as Mura and Mudas in Tripura and Madhya Pradesh, respectively.
A Munda's surname, which is derived from natural objects like trees, animals, and birds, identifies him or her. 
Mundas like dancing to music and singing about the wonders of nature. The Munda have been nomads and hunters from the beginning of time; more recently, they have turned their attention to agriculture.
Where to meet Munda tribes in India:
Chota Nagpur Plateau region in Jharkhand
Parts of Bihar, West Bengal, Chhattisgarh, Madhya Pradesh, Tripura, and Odisha
12. Irula Tribe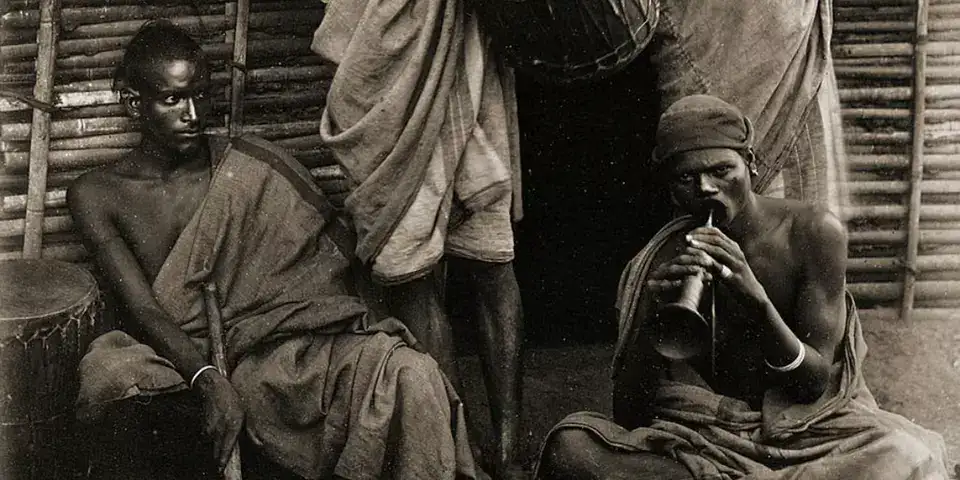 Also known as Iruligas, Irulas are Kerala's second largest tribe and are unique tribes in South India because they are the skilled snake and rat catchers.
In the past, the Irulas' main sources of revenue have been beekeeping and rat- and snake-catching activities.
They also work as agricultural laborers in the rice mills or on the fields of their landlords during the harvesting and planting seasons. Fishing and cattle husbandry are two prominent occupations.
Where to meet Irula tribes in India:
Palakkad district of Kerala
Andhra Pradesh
Tamil Nadu 
Karnataka
13. Nyishi Tribe 
The majority of people in Arunachal Pradesh belong to the Nyishi tribes, which are the largest ethnic group there.
Even though the majority of them have converted to Christianity, they still practice a religion that includes a belief in nature spirits.
The Nyishi tribe accepts polygyny. However, this practice is dwindling as modernization and the expansion of Christianity continue.
They are broken up into various clans and can recognize their patrilineal ancestry.
Where to meet Nyishi tribes in India:
Districts of Kra Daadi, Kurung Kumey, East Kameng, West Kameng, Papum Pare in Arunachal Pradesh
14. Warli Tribe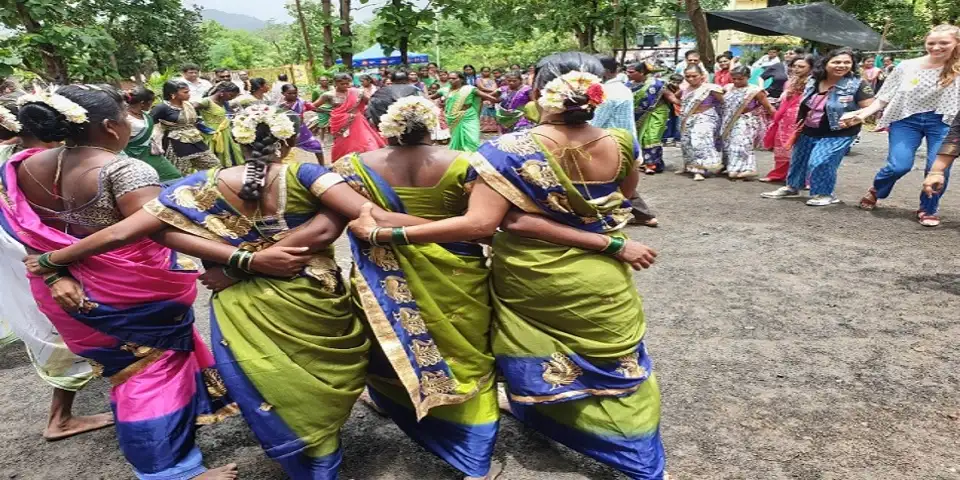 The Warli tribes appreciate the natural world. The origin of "Warli art" is their religious system, which has been inspired by years of foraging for food in the jungle.
They are small-scale farmers who cultivate grains, legumes, and vegetables.
Where to meet Warli tribes in India:
Thane, Nashik, and Dhule districts of Maharashtra
Valsad district of Gujarat
Parts of Karnataka, Goa, and the Union territories of Dadra & Nagar Haveli and Daman & Diu
Read our article about 15 Irresistible Travel Experiences in India