Surrounded by the tranquility along the bank of Yamuna River, A city that wears tradition, culture, and historical traits like a finely embroidered robe. 
Agra is a fascinating city that needs no words to define; a city that is the epitome of India's rich history and cultural heritage. Every valley, every monument, or the city narrates the story threaded of emperors and empresses, love and legacy, and breathtaking architectural crafts that were left behind to adore.
So, we offer you a thorough Agra Heritage walk, a virtual journey through Agra's timeless historical treasures, one that will leave you spellbound with the city's magic. 
Agra City and its rich history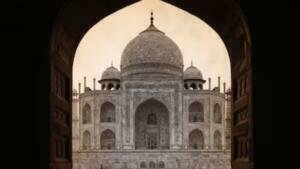 Before jumping on our exclusive Agra walking tour, let's unwrap some petals of the city's timeless history. As you know, Agra was the brightest and priceless jewel in the crown of the Mughal Empire, and the city was ruled by illustrious emperors like Akbar, Jahangir, and Shah Jahan during the 16th and 17th centuries.
Not just their wisest regions, but the city is being left blessed with their wondrous legacies to adorn, such as intriguing Agra historical sites, jaw-dropping palaces, forts, markets, and the most above all, the iconic Taj Mahal, one of the seven wonders of world.
Read: Yamuna Boat Ride: Serenity near the Taj Mahal
Preparing for your Agra Heritage Walk 
Before we lace up our walking shoes and get on the adventure of the Agra Heritage Walk, it's utterly essential to brace ourselves with the little preparation that goes a long way in ensuring comfort and convenience throughout the journey. 
The right time- 
You wouldn't want hot and harsh weather to destroy the thrill of your adventure; so always choose the right time to explore the timeless treasure at the Agra City tour.
Choose cooler months from October to March for hassle-free wandering
The Right dress- 
A comfortable attire and lifestyle can flourish your escapade and add spices to your comfortable wandering through any time of day 
Choose comfortable clothing and sturdy and soft footwear as we walk through history's pages
The Right Medium- 
Exploring Agra city heritage can be a real daunting and demanding task if you don't seek out the help of professionals. 
So Research and meet your knowledgeable guide, the expert storyteller who unveils the city's exquisite history and cultural secrets.
Read: Things to See in Agra Beyond the Taj Mahal
Taking steps in history 
Now, let's begin our fascinating heritage walk with a beating and excited heart, wandering through the most iconic sites of Agra that stand tall, reflecting cryptic history beyond time. 
Agra Cantonment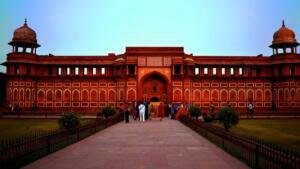 The journey begins at the magnificent historical military base, Agra Cantonment. Holding the pure reflection of Agra's history, this priceless heritage of the city resonates with the living echoes of past battles and dedicated soldiers.
Wander around to experience the intriguing historical narrative brought straight from the colonial or British era. 
Historical Churches 
Then we move towards Agra's religious culture, to its historical churches that comprise a long, fascinating tour of Akbar's church, and to a serene stop at St. Mary's church. Each church bears a unique chapter of the city's religious and colonial history aspect, whether it is Havelock Memorial church, built as an everlasting memory, the St. George's Cathedral offers a rich cultural flavor of the city.
Itimad-ud-Daulah Tomb
Moving on to another exquisite visit, "Baby Taj". The Itimad-ud-Daulah, another delicate and priceless jewel in Agra's beauty; A standing piece of art perfection ready to leave you spellbound with marble inlay work. It's a prelude to the jaw-dropping grandeur of the iconic Taj Mahal itself. 
Mehtab Bagh
Take a brief moment to yourself, find utter peace, taking the leisurely riverside stroll by the Mehtab Bagh. A breathing proof of nature's wonder, a pristine garden that offers a beguiling view of the Taj Mahal straight across the Yamuna River; A picture-perfect place or a spot to lose yourself in mother nature's tranquillity. 
Sikandra Fort
The Agra Heritage Walk takes another vital turn to the Sikandra Fort; A fine work of architect that has served as the final resting place of Emperor Akbar. The fort's precise craftsmanship and peaceful garden surrounding it are worth a visit. Live through the history pages as you delve into the lifestyle of the visionary ruler. 
Fatehpur Sikri
A final stroll through the history as we land at the Fatehpur Sikri. A UNESCO World Heritage Site that left a desolated reminiscence of the past. Wander through the deserted palaces and courtyards and let the whispers of history be felt in every breeze. 
Take a look on our Agra Tour Packages to book the trip with us!
Lunch Break (Agra Street food exploring) 
As you walk through the major spots of Agra's historical remembrance, you witness the breathtaking beauty of history pages. But after this tiring exploration of immersing ourselves through a timeless heritage walk, let's take a moment to savor the mouthful of vibrant Flavors of Agra's cuisine.
To satiate your taste buds, you can indulge in tantalizing delights like Pani Puri, Chaat, Sweet treats, and juicy desserts, exquisite dishes you get to experience on the Agra food tour. 
Architectural wonder – Taj Mahal beauty 
The exploration of Agra's cities is never complete without visioning the ethereal pinnacle of architectural beauty – The Taj Mahal. Behold your senses in front of this divine beauty, a standing testament of love and finest craftmanship. As you stand before this mesmerizing monument, you are exported back to the history pages through the story love story of Shah Jahan and Mumtaz while being aware of its symbolism, historical fact, and traits. 
To witness the eternal beauty of this iconic landmark and unveil a unique perspective, one must try envisioning different angles and perspectives with the Beyond the Taj walk tour.
Read: Delhi Heritage Walk
Marketplace retreat
And at the end, after your hectic visitation through Agra heritage sites, Agra Travel Guide suggests finishing your day with a warm visit to Agra's bustling marketplace. Learn about the ethnic and cultural traits coming straight from history, and cherish souvenirs from the places to treasure for a lifetime. 
Kinari Bazaar- A vibrant market crowded with traditional crafts, textiles, and souvenirs reflecting the rich and colourful culture of India
Meena Bazaar– A unique and popular shopping marketplace where past meets present, aligning colors and crafts among finest artisans 
Raja Ki Mandi – A place to immerse yourself in historical tales of Agra while savouring local Flavors and street food delight
Conclusion 
The exquisite Agra heritage walk tour has been quite the journey, a journey that goes above and beyond time, unveiling Agra's rich history, cultural values, and top-notch architectural marvels.
So now you know The Taj Mahal may not be the only jewel engraved in Agra's crown, but the exploration spirit runs deeper through the valleys of the city; and remember, there's always more to unwrap, always more to explore and embrace in this timeless Agra old city walk. 
Because you might be bidding your adieu to Agra, but you surely do carry the timeless treasure of memories of your true, enriching adventure. 
Intrigued by Agra's fascinating heritage? Plan your visit with Trocals; Unveil the secret treasures of this mesmerizing city and let it weave this enchanting magic around you.