Delhi, the country's capital, is a hub for all youngsters for education and career opportunities. Thus, Delhi has become commonplace for better communication and new cultural ideas amongst young students and freshers. Delhi is a great place to live in, and now it has become a great destination to experience great nightlife with a few best cheap bars in delhi which offer a great ambiance and party experience.
After all the assignments, deadlines, crazy work schedules, meetings, and presentations that you deal with throughout the day, you want to kick in some relaxation at the weekend. Throughout Delhi there are innumerable places for you to party or chill with your colleagues or friends, and here are some of our suggestions that would be perfect for your relaxed weekend.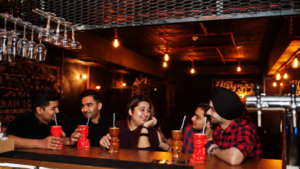 Pocket-Friendly Cheap Bars in Delhi:
1. Sam's Café
Sam's Café has the best feature of all cafés i.e., the spacious rooftop lounge. Five stories high, the rooftop is the best place to get some sunshine with some drinks. The terrace area is neatly arranged with a good seating arrangement and lets you sink in Paharganj's vibrancy.
Sam's Café is known to make the best cocktails (Mojitos, LIITs, Screwdriver), and they stock good beers for you as well. You can also enjoy meals and some snacks to munch with your drinks, and they even serve a strong brew of cold coffee.
Thus, Sam's Café is worth a laidback weekend, with a chill ambiance and excellent view to enjoy your drinks.
Location: Paharganj, New Delhi
Price for two: INR 125 – 250 for a pint of Beer
Read: 9 State Bhawans in Delhi
2. Café MRP
Café MRP is the perfect shack for all Delhi's students. The variety of snacks and cocktails offered at pocket-friendly prices is the best go-to Bar to unwind from all the deadlines. It is primarily famous for its crazy cheap Beer. One pint of Beer starts at INR 75 approx.
If you want to detox from all the deadlines mid-week, Café MRP has parties and live gigs on Mondays and Wednesdays and every weekend.
Location: Connaught Place, New Delhi
Price for two: INR 1,000 for two people (approx.)
3. My Bar
Are you planning to have your weekend drinks with your friends or colleagues? Bookmark My Bar for that. My Bar has a rustic vibe to its ambiance and has an outdoor seating area. My Bar has expanded its outlets in Greater Kailash and even Hauz Khas Village.
The service is friendly, but the prices are more agreeable. You can get Jaegerbomb shots at just INR 314 and also indulge in some tasty munchies.
Location: Connaught Place, New Delhi
Price for two: INR 500 for a round of cocktails for two
Take the Delhi Travel Guide here.
Best Happy Hour low budget lounge Bars: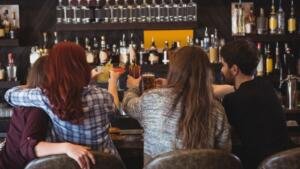 1. Blues
As the word suggests, Blue is a rustic and old-school bar. You can reminisce about the old age of Hollywood with its amazingly designed ambiance. The whole place is decorated with vintage articles and paintings of old Hollywood. This Bar will help you indulge in a long-gone era.
The food complements its ambiance, and you get delicacies from American to North Indian cuisines. And you can score everything from wines to craft beers and cocktail creations. It has happy hours till 7 or 8; you can enjoy your evening drinks here. Alternatively, you can plan to enhance your experience by embarking on the Old Delhi walking tour with us.
Location: Connaught Place, New Delhi
Price for two: INR 1,100 for two people (approx.)
2. Beer Cafe
Is Beer your spirit drink? The beer café is all you need. The Beer Café is the best place for some early evening drinks, especially after a long day. This café comes with the best ambiance with a big screen, all types of beers, and Indian appetizers.
Even if they don't have happy hours, they offer the best promotional offers on beers. For instance, if you walk on the last Wednesday of the month, you can get a Bira for just INR 99!
Location: Connaught Place, New Delhi
Price for two: INR 250 for a round of Beer, INR 300 for a round of cocktails for two
Also Read: Best Thing to do in Delhi
3. Route 04
Want a fun night with your friends? Head to Route 04 and unleash the rockstar hidden in you. This place offers karaoke nights every night and is a major crowd-puller.
Do you wish to spend a game night with your friends? Route 04 is the place for you. With rum, whiskey, gin, and vodka starting at INR 55 and cocktails at INR 290 get sloshed and cheer on for your team!
Location: Connaught Place, New Delhi
Price for two: INR 1,200 for two people (approx.)
After hitting up the 6 best cheap bars in New Delhi, join Trocals for a full-day Delhi tour and explore the city's top landmarks, markets, and food stops hassle-free with our expert guides.