India is the world's 7th largest country by area and ranks first in terms of diversity- of cultures, languages, tribes, and food. There is nothing specific to Indian food. The local food can comprise steamed, boiled, roasted, or deep-fried delicacies. They can be soupy, creamy, dry in nature, or roasted in a tandoor.
Indians love to eat, and all the meals of the day differ considerably from one another. A quintessential experience of a visit to India is sampling the cuisines of different parts of the country- Mughal food such as Nihari and Khameeri roti in Delhi and Uttar Pradesh, which is influenced by their Turk and Persian roots, Goan dishes like Feijoada and Vindaloo having a heavy fusion of Indo-Portuguese cultures, super healthy Dosas and Idlis of Tamil Nadu, sweet and savory snacks of Gujarat such as Fafda and Khandvi, desserts of West Bengal and Odisha like Sandesh and Rasgulla, lip-smacking spicy Laal Maas of Rajasthan, and we can just go on. India is a delight to the food connoisseur and aficionado alike. The richness in diversity of India is reflected well in the food habits of its inhabitants.
It can be a long journey to each of the states to try out their local cuisines. But the good news is, one can have them all in the national capital. Apart from being the administrative capital, Delhi is also the food capital of the country. Starting from Delhi street foods of these states to restaurants offering these delicacies, Delhi has it all. The Delhi state bhawans have their in-house restaurants which are the best and most affordable places in Delhi to try out the most authentic regional cuisines.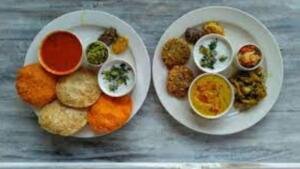 Here is a list of some hand-picked state houses for delicious food
1. Jammu and Kashmir House
Address: 9, Kautilya Marg, Chanakyapuri
Nearest Metro Station: Lok Kalyan Marg (Yellow Line)
They have a small, yet elegant dining hall with wooden décor on the walls that gives a chic look. The canteen is run by the state government itself. However, there is no printed menu and the food varies each day according to the availability of ingredients. If ordered a day in advance, they prepare an extensive range of items.
Recommendations: Mutton Rogan Josh, Yakhni, Gushtaba, Rishta, Kashmiri kahwah (tea)
2. Gujarat Bhawan
Address: 11, Kautilya Marg, Chanakyapuri
Nearest Metro Station: Lok Kalyan Marg (Yellow Line)
With a basic ambiance, the canteen in Gujarat Bhawan offers a huge quantity and diversity of food in their thalis. The thali is changed each day of the week and represents the rich culinary heritage of Gujarat throughout the week.
Recommendations: Gujarati Thalis for breakfast, lunch, and dinner, Theplas, Jalebi with Fafda, Chaas (Buttermilk)
Book Best Delhi Cooking Class Tour with us.
3. New Maharashtra Sadan
Address: KG Marg, Next to Bank of Baroda, Connaught Place
Nearest Metro Station: Mandi House (Blue and Violet Lines)
The Maharashtra Sadan is popular because of the grandeur of the building. Authentic Maharashtrian food is served in the restaurant, which is named 'Cuisine' and is leased out to a private firm for its running and upkeep. We would recommend it for the breakfast they serve. The Indian Food menu is quite extensive and is not limited to Maharashtrian cuisines.
Recommendations: Misal pav, Sabudana vada, Kanda poha, Sol kadi
4. Goa Niwas
Address: 14, Bir Tikendrajit Marg, Chanakyapuri
Nearest Metro Station: Sarojini Nagar (Pink Line)
Viva O Viva which means 'Long Live' is the restaurant in Goa Niwas. It has a very quirky ambiance depicting Goan life. The menu changes every day and is written on a whiteboard. Whereas they are famous for their seafood, the restaurant offers very limited choices for vegetarians.
Recommendations: Prawn Balchao, Vindaloo with Goan bread, Chicken Xacuti
Read: Top 26 Things to Do and See in Delhi
5. Karnataka Sangha
Address: Rao Tularam Marg, Sector 12, R.K. Puram
Nearest Metro Station: Sir M. Vishveshwaraiah Moti Bagh (Pink Line)
A word of caution- Be prepared to wait in long queues for the most delicious South Indian snacks at the Karnataka Food Centre, because the food is worth the wait! The parking space is very limited and thus, going by Metro is recommended. The nearest Metro Station is a stone's throw away.
Recommendations: Mysore Masala Dosa, Filter Coffee, Bisibele Bhath
6. Tamil Nadu Bhawan
Address: Chanakya Cinema Ln, Chanakyapuri
Nearest Metro Station: Sarojini Nagar (Pink Line)
This is a one-stop destination for one craving crispy dosas and spicy Chettinad cuisine. The service is fast and the dine area is very basic and usually crowded. Their dosas are humongous!
Recommendations: Chettinadu Chicken with Malabar Parotta, Ghee Roast Masala Dosa, Filter Coffee
Take Chandani chowk food walk Guide
7. Andhra Bhawan
Address: 1, Ashoka Road, Near India Gate
Nearest Metro Station: Janpath (Violet Line)
Located in one of the busiest places in Delhi, the canteen at Andhra Bhawan is popular for its all-you-can-eat thalis. On Sundays, they serve their most sought-after Hyderabadi Biryani. Arrive between 1-1.30 pm to beat the queue.
Recommendations: Hyderabadi Biryani, Rasam, Mutton Curry, Chicken Fry
Read: Delhi Travel Guide
8. Banga Bhawan
Address: 3, Hailey Road, Hamdard Nagar, Mandi House
Nearest Metro Station: Barakhamba Road (Blue Line)
Run by Bijoli Grill, the restaurant is testimony to the fact that Bengali Cuisine is not just Machher Bhaat and Sondesh. They have a decent, cozy ambiance.
Recommendations: Daab Chingri, Fish or Chicken Kabiraji, Luchi, and Kosha Mangsho
9. Assam Bhawan
Address: 1, Sardar Patel Marg, Chanakyapuri
Nearest Metro Station: Udyog Bhawan (Yellow Line)
Assamese food is known to be mildly spicy, made of local ingredients and a lot of greens. The restaurant is named Baankaahi after a traditional utensil made of bell metal on which the royalty was served food. One such piece has been kept at the entrance of the restaurant.
Recommendations: Parampara Thali, Aloo Pitika, Duck Curry, Payesh
Several State Bhawans have either closed their canteens or limited their facilities to the officials and guests. However, restaurants serving authentic regional cuisines of all the states and regions can be found in various locations in Delhi. Though these State Bhawans are important ingredients in Delhi's culinary mix, they are no substitute for exploring the incredible country that India is.
Read our latest article about: 6 Best Cheap Bars In New Delhi