India is a country that is diverse in culture, language, nature, and most importantly food. Indian foodis famous all over the world. If you want to embrace all tastes then you must try the food of India. In every state, there is a different food culture. You will find some similarities as well as diversity.
If you want to explore Indian nation food then you have to do it state by state. If you haven't tried Indian food ever then we suggest starting from the west or the south. Food from both regions is not super spicy yet delicious. Let us give you a brief on the food of India.
Food from different regions of India
Western India
In the western belt of India, you will find states like Gujarat, Rajasthan, Punjab, and Maharashtra. Even being from a specific region the food from all these states is different.
Food of Gujarat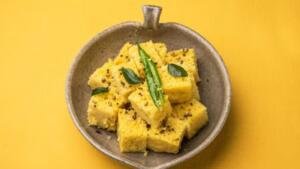 To begin with Gujarat you must try Dhokla, Khandvi, Undhiyu, Gujarati Kadhi, Thepla, Handvo, Dal Dhokli, Patra and Dabeli. Some of the most famous Gujarati Food you will ever try. We suggest trying these items in Gujarat or in a Gujarati restaurant where you can get the actual essence of Gujarati food.
Food of Rajasthan
One of the most popular Indian dishes is Dal Bati Churma, the Shaan of Rajasthan. Other than that you can also try gate ki sabji, Mirchi Vada, Pyaaz Kachori, Balushahi, and Churma Laddu. When you are in Udaipur try Dal Bati Churma a restaurant called bawarchi.
Read: Best Things to Do in Jaipur
Food of Punjab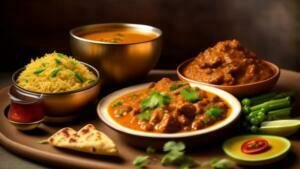 Punjab is not all about lassi, you can try chole bhature, kulche, parathas, rajma chawal, Amritsari chole, Pinni, Kada Prashad (atta halwa) and don't forget the staple in winter sarso da saag and makki di roti.
Food of Maharashtra
The food culture of Maharashtra is as strong as other states in India. When it comes to the Indian food menu you can find some of the most popular Maharashtrian dishes in there. Among all you must try Puran Poli, Misal Pav, Pav Bhaji, Thalipeeth, Modak, Sabudana Vada, Kothimbir Vadi, Batata Vada, Zunka Bhakhri.
Northern India
North Indian food itself is diverse. Out of all Delhi has the most diverse food culture in North India.
Food of Jammu and Kashmir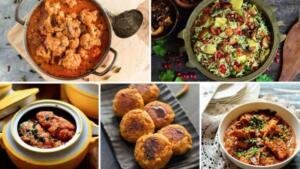 From the topmost region of India, you will find some amazing dishes. When you are in Kashmir you cannot miss the famous Kahwa. Apart from this, you can try Goshtaba, Yakhni, Nadru Yakhni, Modur Pulav, Dum Aloo, Kulcha, Wazwan, Rogan Josh, Sheermal, Rista etc.
Food of Leh & Ladakh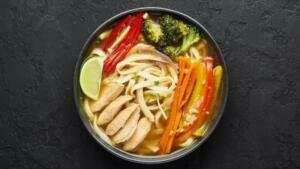 The food of Leh & Ladakh is very popular yet not many of us know that these foods are from Leh & Ladakh. In the chilly weather enjoy some momos, thukpa, Tingmo, Butter Tea, Chhaang, Chhurpi, Yak milk Cheese, jaggery tea etc.
Read: Handicrafts in Agra: Exploring Taj Mahal's Artistic Treasures
Food of Himachal Pradesh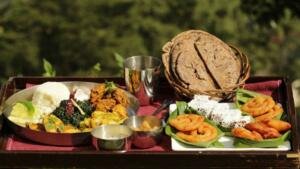 Himachal Pradesh has a lot to serve you that you may have not imagined. When you are in Himachal try Chana Madra, Babru, Tudkiya Bhat, Siddu, Mittha, Aktori, Bhey, Dham, Kullu Trout, Kaale Chane Ka Khatta, Aloo Palda, Thenthuk, Akotri, Sepu badi etc.
Food of Uttarakhand
The food from Uttarakhand is pretty different from what you see in the northern region of India. You can try Aloo ke gutke, Bhang Ki Chutney, Kafuli, Phaanu, Kandelee ke saag, Chainsoo, Khadi, Arsa, Gulthiya, Muspani.
Food of Uttar Pradesh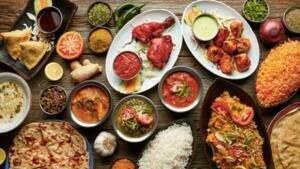 Even though Rajasthan is the largest state in India the state with most population is Uttar Pradesh. Similarly, the diversity in food is present. Some of the famous dishes from UP are Tehri, Petha, Peda, Malaiyo, Chaat, Tunde Kebab, and biryani. You can take the Agra Food Walk to taste the local dishes.
Food of Delhi
Delhi the capital of India makes it a hub of food with diverse taste and culture. People from all over India live here which is why the food of Delhi has a dominant effect on all of India. Still, you can say Dal Makhni and Butter Chicken is Delhi's Own as the founder of the Daryaganj Restaurant claims to have invented these dishes. The Delhi Food Tour will give you a better understanding of the dishes.
Read: A Guide to the Top 26 Things to Do and See in Delhi
Food of Haryana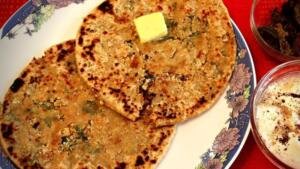 The food choices of Haryana resemble Punjab and Himachal. Still, you can try the unique dishes of Haryana which is Sangri Ki Sabji, Bathua ka Raita, Kachri Ki Chutney, Bajra Khichdi, Hara Dhania Cholia, Bajra Khichdi, besan Masala Roti etc.
Eastern India
In Eastern India, three states are considered which are West Bengal, Bihar, Jharkhand and Odisha. The Sweets of this region are pretty similar. You can try rosogolla, Chena poda, Mishti Doi. Other than you must try dishes such as Shukto, jhal muri, Paturi, mocha ghonto, Litti Chokha, Ghugni, Thekua, Khaja, Malpua, Pakhala Bhat, Santula, Pitha and payesh etc.
Southern India
In the southern part of India, the food culture is pretty similar. Taste the food from the states of Tamil Nadu, Kerala, Telangana, Andhra Pradesh, Goa, and Karnataka. Try dishes such as Dosa, Idli, Appam, Rasam, Medu Vada, Sambhar, Uttapam, Puli hora, Curd Rice, Upma, Puttu, Bisi Bele Bath etc.
Read: Things to See in Agra Beyond the Taj Mahal
Central India
The central part of India has the states Madhya Pradesh and Chhattisgarh which were the same state until 2000. Try their Poha, Palak Puri, Dal Bafla, Mawa Bati, Khopra Patties, Poha Jalebi, Muthia, Chila, Tilgur, Kusli etc.
North Eastern India
The seven sisters of North East India are Assam, Tripura, Meghalaya, Manipur, Arunachal Pradesh, Mizoram, and Nagaland. You must try Khar, Pitha, Smoked Pork, Fish Tenga, Sanpiau, Jadoh, kangshoi, Bhangui, Ngamtok, Chikvi etc.
Where to Find the Best Street Food?
If you love street food then we must suggest Delhi, Kolkata, UP and Madhya Pradesh to get the best street food. They have the best variety of food on the streets.
Conclusion
India is diverse so is the food. You will never get out of new items to try. So keep trying the amazing delicacies. For further guidance, you can connect with Trocals.